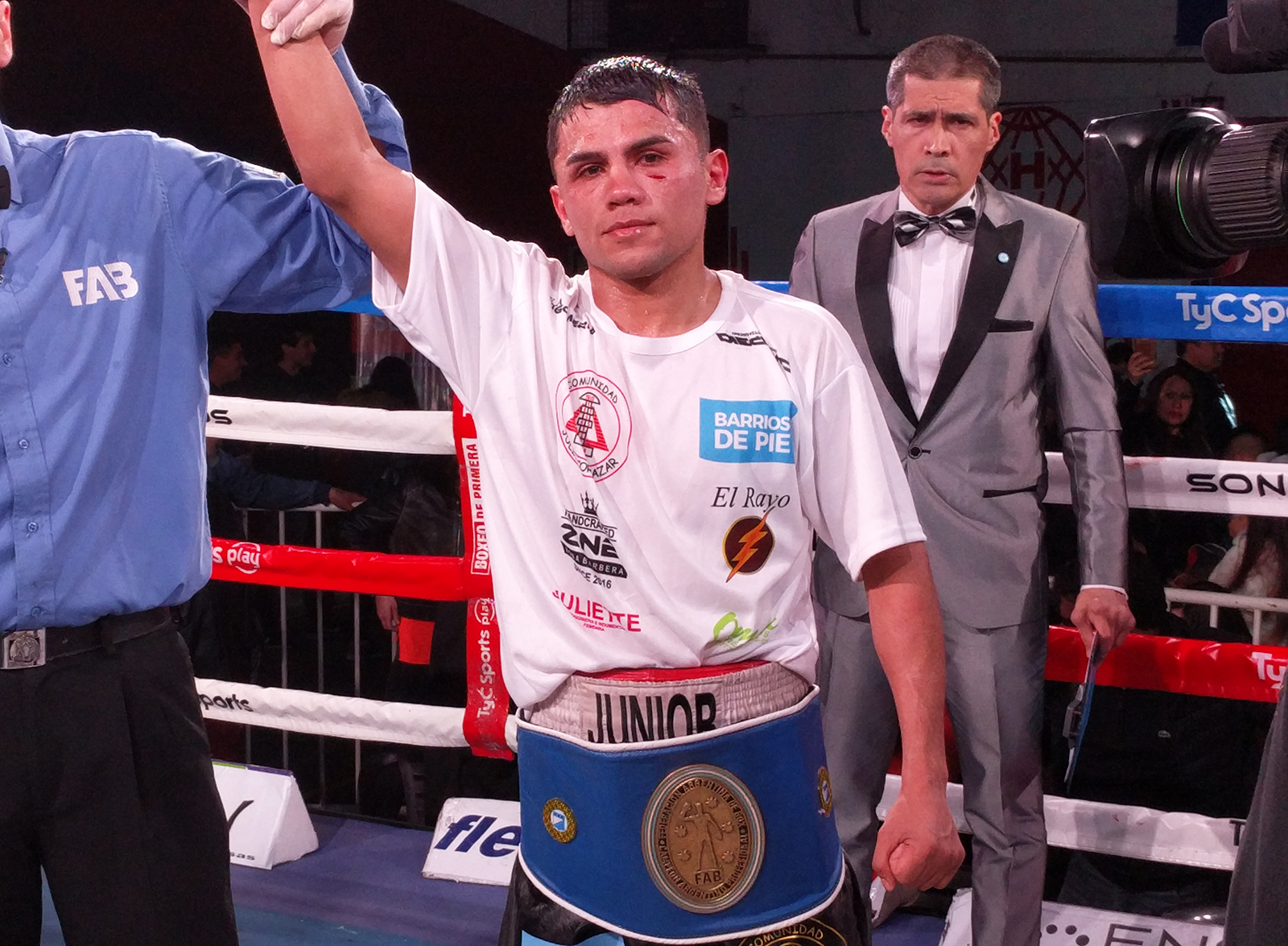 High rated prospect Junior "El Demonio" Zárate dominated Argentinean flyweight champion, Juan "Harry" Jurado, by a wide unanimous decision after ten rounds, and dethroned him from his title, in a highly expected rematch, at the main event of an exciting boxing night last Saturday night at the Club Atlético Huracán, in Buenos Aires, Argentina, promoted by Argentina Boxing Promotions, of Mario Margossian.
In an action packed fight, with a tremendous rhythm, Zárate, 29 years old, from Formosa, former Argentinean national ameteur team and current # 1 of the Argentinean flyweight ranking, showed the best of his boxing skills to dominate thoroughly Jurado, 32, from San Salvador de Jujuy, former World Boxing Organization (WBO) Latino super flyweight champion, who was making the third defense of his national belt, but was unable to do anything. With a notorious aggressiveness, intense movements, leg speed and a clear strategy, "El Demonio" controlled the actions and connected a huge amount of left and right crosses and uppercuts to the head. Although "Harry" mantained himself competitive and throwing punches, the difference in quantity and accuracy was evident. During some passages, the challenger punished heavily the champion with strong barriages of jabs, crosses to the chin, and hooks to the body. As the rounds went by, the advante grew huge, and even he outclassed the champion. Showing his best level, Zárate ended in a great shape and dominated every path of the bout, and in this way took revenge of what happened on March 2nd, 2018, when Jurado had defeated him by unanimous decision. Now, "El Demonio" conquered his most important belt and unleashed the celebration of the entire crowd that packed the venue.
The scorecard expressed the difference shown on the ring, as they were announced: Alejandro Bokser 98-92, Javier Geido 99-91, and Héctor Miguel 99-91, all in favour of Zárate.
With this result, Zárate, who weighed 111.4 lbs., who had beat Luciano Baldor and Fabián Claro, and after losing against Jurado, on September 21st defeated Abel Silva by unanimous decision, moves on to 11 victories (4 KOs) and 2 losses. Jurado, 111.4 lbs., lost the belt he had obtained on June 20th, 2015, when he dominated Elías Coronel by unanimous decision and he retained over Fabián Claro and Zárate, and remains in 15 victories (1 KO), 2 defeats and 3 draws.
In the co main event, in junior welterweight division, unbeaten rising star Nicolás "El Elegante" Andino (139.1 lbs. and 11-0, 1 KO), from Villa Caraza, Buenos Aires, dominated experienced Marcelo "El Mago" Mesa (140 lbs. and 11-45-1-1 nc), from Tandil, Buenos Aires, by a six round wide unanimous decision, and after Mesa was deducted one point in the third round for hitting the back of the head by the referee Rodolfo Stella. The scorecard were: Alejandro Bokser 59½-55, Javier Geido 60-54, and Edgardo Codutti 60-54.
Also, in bantamweight division, former Argentinean national team, Florencia "La Cordo" Juárez (116.4 lbs. and 5-0, 1 KO), from Córdoba, destroyed Juliana "La Profeta" Basualdo (116.4 lbs. and 1-2), from Santa Fe, by a strong knock out in the third round, after sending her down with a powerfull left cross to the chin, and making the referee Daniel Bogado reach the ten count.
In lightweight division, Lucas Rojas (134.2 lbs. and 3-2-1-1 nc), form Morón, Buenos Aires, defeated Elías Paredes (133.6 lbs. and 4-2, 2 KOs), from Remedios de Escalada, Buenos Aires, by a third round technical decision, after generating a standing count in that round to Paredes but seconds later an accidental clash of heads caused a deep cut on Paredes' left eyebrow, and was unable to continue. The scorecard were: Edgardo Codutti 30-26, Alejandro Boker 30-27, and Héctor Miguel 29-27½.
In welterweight division, Emmanuel "GES" Schramm (146.9 lbs. and 3-0-1, 2 KOs), from Moreno, Buenos Aires, and Darío "Seco" Soto (144.9 lbs. and 1-0-1, 1 KO), from Rosario, Santa Fe, ended in a draw, by a four round unanimous decision. The scorecard were: Edgardo Codutti 38-38, Javier Geido 38-38, and Héctor Miguel 38-38.
Finally, in junior welterweight division, Jonatan Barrientos (134.3 lbs. and 2-1), from Lanús, Buenos Aires, beat Jonatan "El Trueno" Santillán (136.1 lbs. and 1-3), from Moreno, Buenos Aires, by a four round majority decision. The scorecard were: Edgardo Codutti 38-38, Alejandro Bokser 39-37, Héctor Miguel 39-37½.