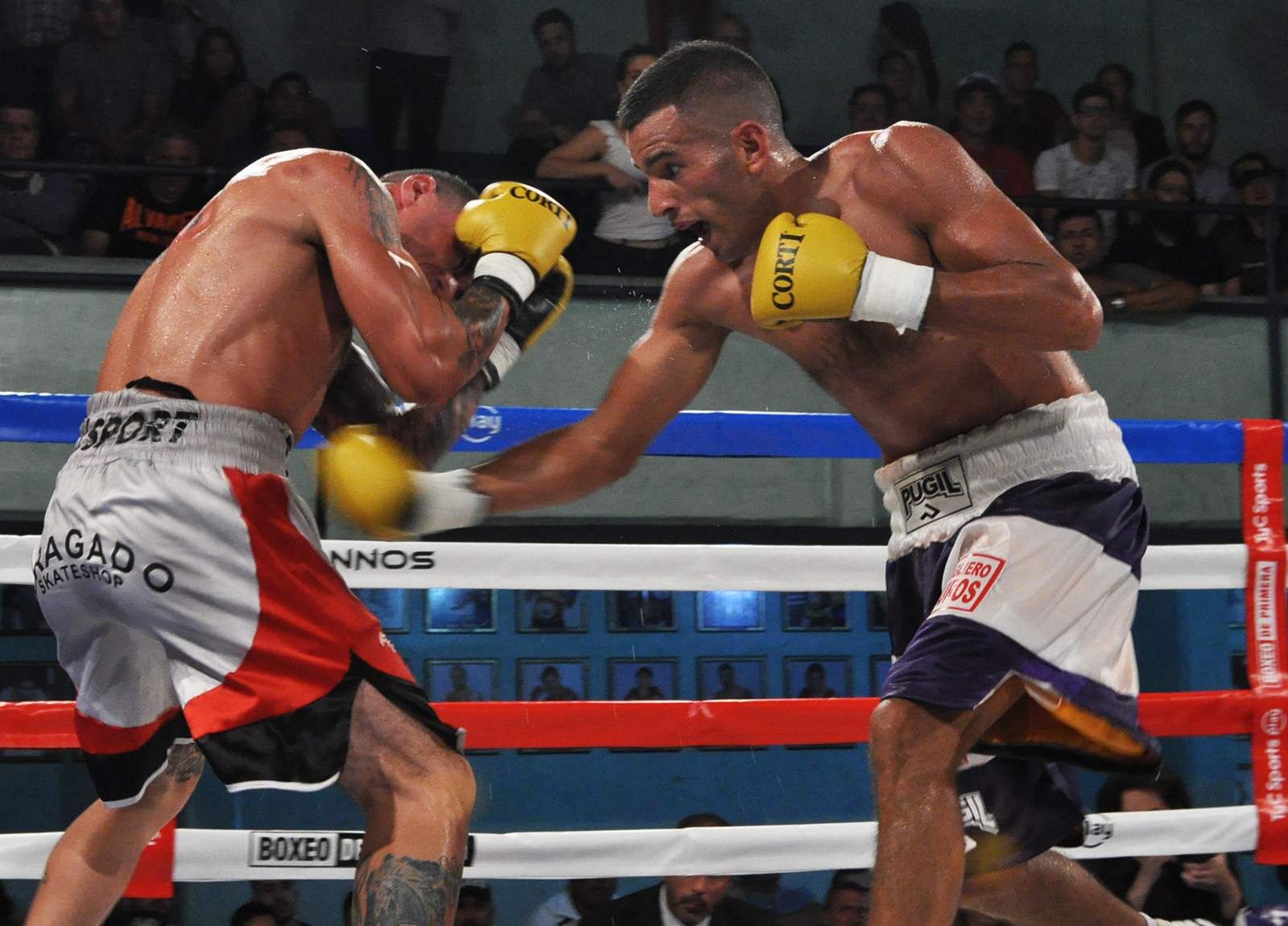 World Boxing Organization (WBO) Latino welterweight champion, highly world ranked and unbeaten prospect Luis "Lucho" Verón, and tough Marcelo Bzowski, fought to a surprising draw by a split decision after ten rounds, and defended for the fourth time his title, at the main event of an exciting boxing night last Saturday night at the Argentinean Boxing Federation (FAB) stadium, in Buenos Aires, Argentina, promoted by Argentina Boxing Promotions, of Mario Margossian.
Established as the highest world ranked Argentinean boxer of the moment, Verón, from José León Suárez, Buenos Aires, former member of the Argentinean amateur national team, current # 4 of the WBO welterweight world ranking and # 2 of the national welter lists, seemed to dominate his skills over Bzowski, from Avellaneda, Buenos Aires, # 7 of the Argentinean junior middleweight ranking, in a clash without deep overflows but with a dominance of the champion, thanks to his speed and accuracy of his blows. In a crash without major impact consequences, the technique and fairness of the 26 year old unbeaten prosoect prevailed over the strategy of a challenger who always complicates. Always in control of the rhythm and distance, Verón maneged to connect the best punches of the fight, specially when he combined his fast jabs with his right and poweful crosses and uppercts to the face, as well as his hooks to the body. As the rounds went by, the control grew even larger, and the differences seemed to be wider. With a good use of his legs, "Lucho" left every attempt of the challenger in the air, and counterattacked with fast barrages of strong combinations of crosses and hooks to the upper side of an opponent who never found him. At the final bell, there was no question on the winner, at the full packed venue. Nevertheless, the scorecard did not express the difference shown on the ring, as they were announced: Jorge Gorini 97-93 in favour of Verón, Juan Carlos Palmieri 97-93 for Bzowski, and Carlos Azzinnaro 95-95.
With this result, Verón, who weighed 66,300 kg., defended for the fourth time the title he conquered on April 27th, 2018, when he dethroned Gabriel Ledesma by majority decision and retained beating Daniel Aquino, Jonathan Eniz and Adolfo Moreschi, to move on to 17 victories (8 KOs) and 1 draw. Bzowski, 66 kg., remains in 10 victories, 8 losses and 3 draws.
In the co main event, WBO Latino junior welterweight champion, world ranked prospect Sebastián Aguirre (63,250 kg. and 17-3, 10 KOs), defeated Paraguayan puncher Carlos "Carpi" Portillo (63,300 kg. and 22-2, 17 KOs), by a ten round unanimous decision, and defended for the first time his title. The scorecard were: Néstor Savino 97-93, Carlos Azzinnaro 96-94, and Jorge Gorini 97-93.
Using his skills and power, Aguirre, from Rosario, Santa Fe, but based in Comodoro Rivadavia, Chubut, # 11 of the WBO junior welterweight world ranking and # 6 of the national lightweight lists, dominated Portillo, from Asunción. Dispite the size of the challenger, the 27 year old champion attacked from every angle making a huge difference in the power and accuracy of his punches. Even more, in the first round, Aguirre connected a strong left cross to the face of Portillo, who nearly went down. After that, the Argentinean continued in control and extended the distance, discharging powefull combinations on his head and body, securing a well diserved victory.
With this result, Aguirre defended for the first time the title he conquered on October 27th, against Martín Coggi by a strong technical knock out in the second round.
In other results, in lightweight division, prospect Claudio "Chaíto" Daneff (61,050 kg. and 8-1-1, 6 KOs), from Cañuelas, Buenos Aires, destroyed experienced puncher Diego Tejerina (59,750 kg. and 10-6-3, 9 KOs), from Salta, by a hard technical knock out in the third round, afther sending him down in the second, same chapter in which he made his opponent receive a standing count, and sent him to the canvas again in the third, making the referee Hernán Guajardo stop the bout.
Finally, in a rematch in lightweight division, Jesús "Chechu" Daneff (60,800 kg. and 5-2-2, 2 KOs), from Cañuelas, Buenos Aires, dominated Jonatan "Johnny" Godoy (61,750 kg. and 3-4), from Ensenada, Buenos Aires, by a four round unanimous decision, after sending down in the last chapter, and this way had his revenge after Godoy had defeated him on May 11th in six rounds. The scorecard were: Jorge Gorini 39-37½, Néstor Savino 39-37, and Juan Carlos Palmieri 40-36.