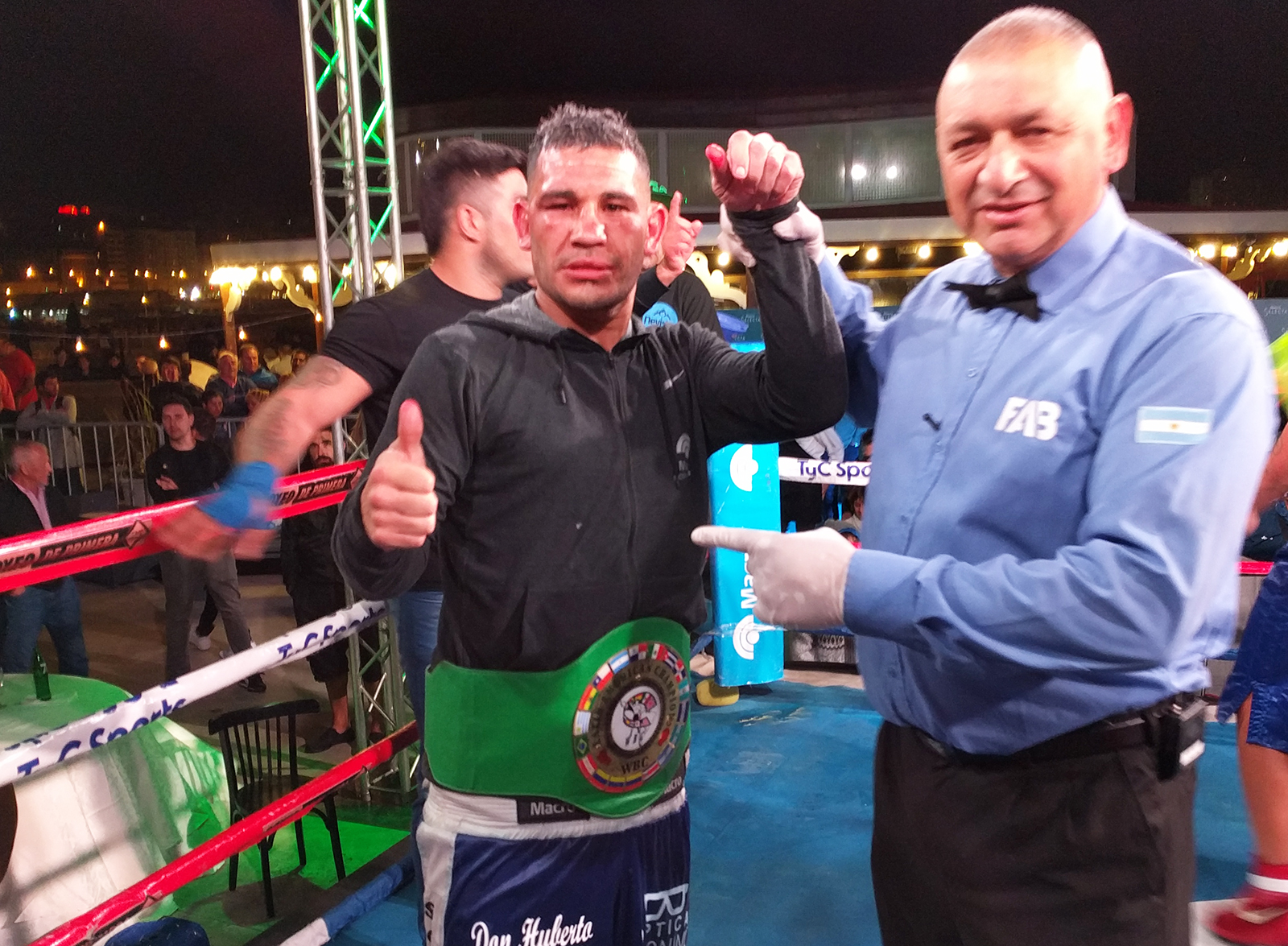 Argentinean light heavyweight champion, Walter "El Yacaré" Sequeira, defeated Facundo "Paco" Galovar, by a ten round majority decision, and reconquered the vacant World Boxing Council (WBC) Latino light heavyweight title, at the main event of an exciting boxing night last Friday night at the Torreón del Monje, in Mar del Plata, Buenos Aires, Argentina, promoted by Argentina Boxing Promotions, of Mario Margossian.
In a spectacular battle between two heavy punchers, Sequeira, from Mercedes, Buenos Aires, former WBC Latino light heavyweight champion and who has two successful defenses of his Argentinean belt, had to go to a lot of effort  against Galovar, from Yerba Buena, Tucumán, #5 of the Argentinean supper middleweight ranking, who complicated him a lot. With both going forward at all times for the victory, the more depth and power of the blows by Galovar obliged on occasions Sequeira to put himself as a counterattacker, making good use of his legs, shifting sideways. With a better physical condition, "El Yacaré" made the most of his mobility to find the angles and connect his firm blows, against the ferocity and explosion of "Paco", who also connected his deep punches. In an exciting bout, both traded heavy damege in intense clashes, which left each other stumbling, and made the audience tremble until the final bell, which was followed by the thunderous ovation of the whole crowd who completly packed the venue.
The scorecard expressed slight difference shown on the ring, as they were announced: Jorge Gorini 95-95, Javier Geido 96-94, and Guillermo Armani 96-94, both for Sequeira.
With this result, Sequeira, who weighed 79,300 kg., regained the title he conquered on August 15th, 2014, against Gastón Soria in two rounds, and that he defended over Roberto Moreno, Mauricio Caceda, Elio Trosch and Evert Bravo, before losing a decision against Turkish Avni Yildirim in Germany, and against Ezequiel Maderna, he obtained the Argentinean belt over Trosch, and then defeated Martín Ríos and Gastón Vega, before being stopped by Anthony Yarde in England, and he moves on to 22 victories (15 KOs) and 5 losses. Galovar, 79,350 kg., who had previously defeated Lucas Cortez, Jorge Caraballo, Roberto Moreno and Juan Juárez, but lost against Wenceslao Mansilla and Julio Alamos, remains in 10 victories (7 KOs), 5 losses and 1 draw.
In an interesting co main event, in featherweight division, unbeaten rising prospect Federico "El Zurdo" Pedraza (57,150 kg. and 9-0-1, 1 KO), from San Martín, Buenos Aires, dominated experienced Sergio "El Enigmático" Estrela (57,150 kg. and 20-16-3, 11 KOs), from La Plata, Buenos Aires, by a six round wide unanimous decision. The scorecard were: Jorge Gorini 60-54, Javier Geido 60-54½, and Guillermo Armani 60-54.
In other results, in junior middleweight division, rising prospect Lucas "El Tornado" Bastida (69,250 kg. and 7-1, 4 KOs), from Mar del Plata, Buenos Aires, crushed experienced Luis Vera (69,650 kg. and 10-14-2, 1 KO), from La Plata, Buenos Aires, by a strong knock out in the fifth round, after sending him down in the that chapter.
Finally, in super featherweight division, Rodrigo "Respeto" Martínez (58,900 kg. and 5-6-3, 1 KO), from Florida, Buenos Aires, defeated Franco "El Principito" Sotelo (58 kg. and 3-5-2, 1 KO), from Dolores, Buenos Aires, by a four round unanimous decision. The scorecard were: Jorge Gorini 39-37, Javier Geido 39-37½, and Guillermo Armani 40-37½.