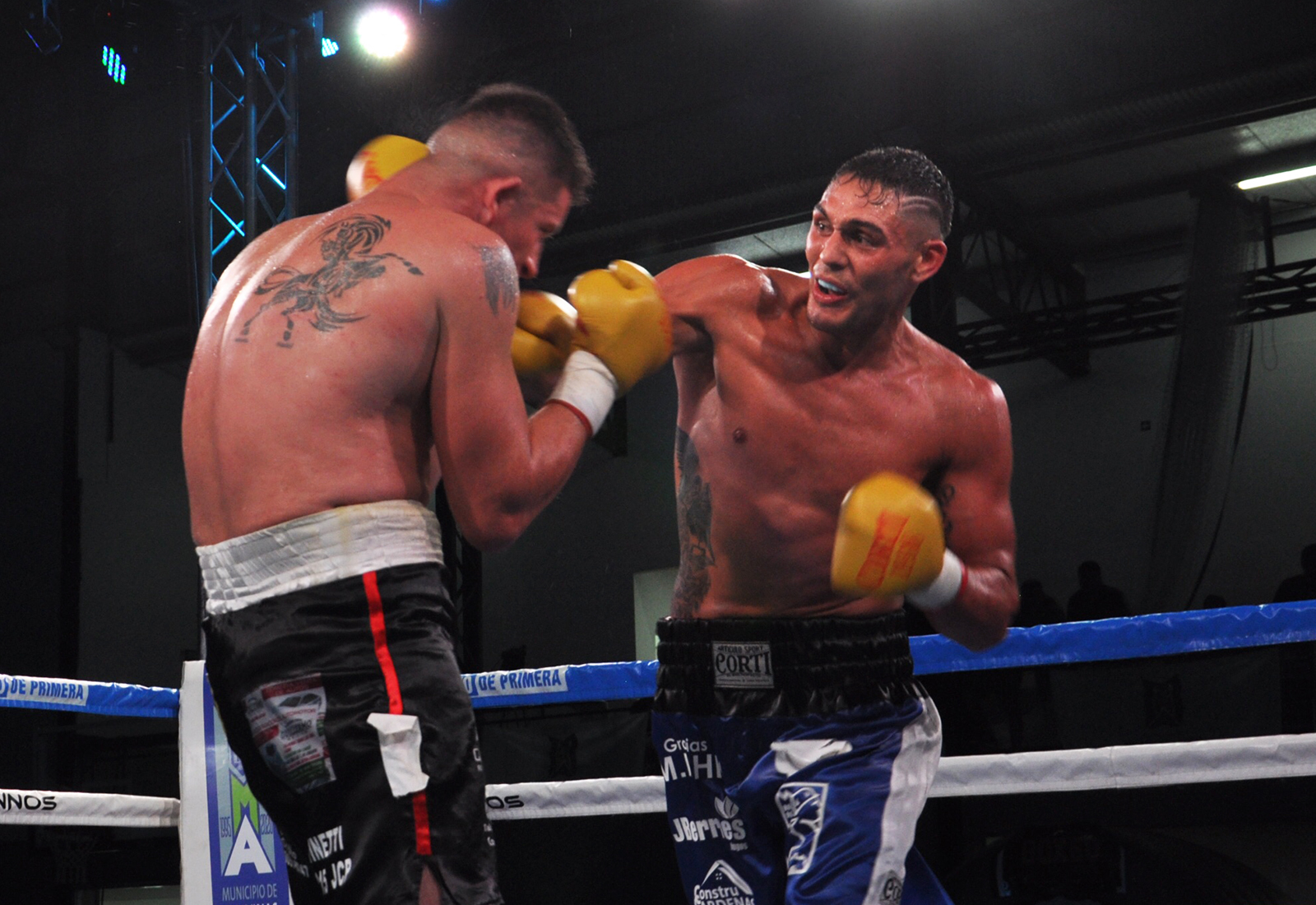 World Boxing Council (WBC) Latino cruiserweight champion, two-time olympian and unbeaten prospect Yamil Peralta, destroyed Argentinean and South American cruiserweight champion Darío Balmaceda, by a strong technical knock out in the ninth round, and dethroned him of his South American crown, at the main event of an exciting boxing night last Saturday night at the Polideportivo Los Polvorines, in Los Polvorines, in Buenos Aires, Argentina, promoted by Argentina Boxing Promotions, of Mario Margossian.
In a dominant performance, Peralta, 28 years old, from Del Viso, Buenos Aires, Argentinean representative in London 2012 -where he reached quarter finals- and Rio de Janeiro 2016, #1 of the Argentinean cruiserweight ranking and #28 WBC, controlled every single action over Balmaceda, 35, from Coronel Moldes, Córdoba, who was trying to defend for the second time his South American belt -he still holds the Argentinean- and was unable to do anything. With his well known skills, technical abilities and accuracy of his punches, the two-time olympian outboxed easily the experienced regional monarch, who almost wasn't able to land a single blow during the nine rounds. Anticipating every single move, Peralta marked the distance with his left jab and connected his powerful right crosses and uppercuts to the face. Even in the third chapter, he caused seriuos damage to his opponent with his left hooks to the ribs. As the rounds went by, differences grew bigger and bigger. Peralta had everything under control. And in the ninth, he stepped on the accelerator and discharged strong combinations of left and right crosses to Balmaceda's jaw, generating the standing count of the referee Rodolfo Stella. Without letting him breath, the unbeating star went on to finish him and punished him with barrages of crosses and uppercuts of both fists to the head of Balmaceda who ended on his knees on the canvas, so Stella stopped the bout which generated the recognition of the whole audience that packed the venue.
With this result, Peralta, who weighed 198.7 lbs., who on May 11th dethroned Marcos Aumada by unanimous decision to conquer his WBC Latino belt that after beating Esteban López he defended in the rematch over Aumada also by a wide unanimous decision on November 22nd in Buenos Aires, gains his second crown, and moves on to 6 victories (2 KOs), in the same amount of fights. Balmaceda, 198.4 lbs., lost the belt he obtained on October 5th, 2018, when he knocked out Mariano Gudiño in the eighth round, and retained crushing Pablo Farías in the sixth -when he unified with the Argentinean belt-, and came after being stopped by undefeated Russian heavyweight contender Evgeny Romanov in the first chapter on August 24th in Chelyabinsk, Russia, remains in 19 victories (13 KOs), 19 defeats and 2 draws.
In the co main event, in bantamweight division, current Argentinean flyweight champion, Junior "El Demonio" Zárate (116.1 lbs. and 13-2, 5 KOs), from Ibarreta, Formosa, via Florencio Varela, Buenos Aires, crushed Alfredo "La Pantera" Petkus (116.1 lbs. and 4-12-0-1 sd, 1 KO), from Río Cuarto, Córdoba, by a strong technical knock out in the fifth round, after Petkus received a stading count in the fourth and his corner threw the towel in the fifth, making referee Gustavo Tomás stop the bout.
Also, in welterweight division, former Argentinean National amateur team, debutant Federico Schinina (142.5 lbs. and 1-0), from Buenos Aires, dominated Gabriel "La Máquina" Molina (140.2 lbs. and 0-2), from Roque Sáenz Peña, Chaco, by a wide unanimous decision after four rounds. The scorecard were: Edgardo Codutti, Mirta Jara and Alejandro Bokser, all 40-36.
Finally, the bout in welterweight division between Pierre Chandía (1-1), from Neuquén, and Dante Arce (0-0-1), from Merlo, Buenos Aires, scheduled to four rounds, had to be cancelled due to a weight failure of Arce.