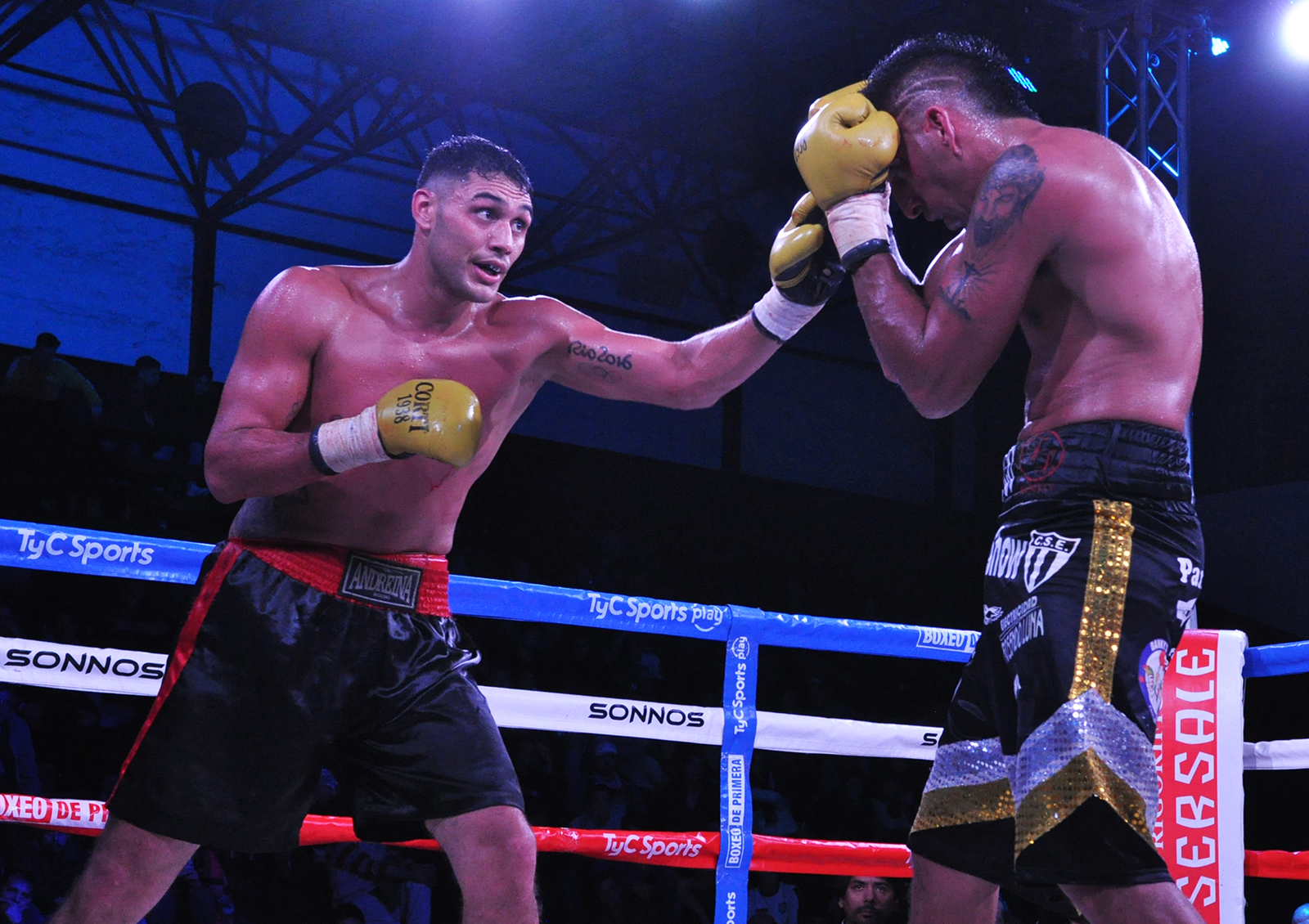 Two-time olympian and unbeaten Yamil Peralta defeated experienced heavy puncher Marcos "El Flaco" Aumada, by a wide unanimous decision after ten rounds, and dethroned him from his World Boxing Council (WBC) Latino cruiserweight title, at the main event of an exciting boxing night last Saturday night at Club Atlético Huracán, in Buenos Aires, Argentina, promoted by Argentina Boxing Promotions, of Mario Margossian.
Former amateur star, Peralta, from Del Viso, Buenos Aires, Argentinean representative in London 2012 -where he reached quarter finals- and Rio de Janeiro 2016, and #2 of the Argentinean cruiserweight ranking, dominated for start to end Aumada, from San Luis, #30 WBC and #1 of the Argentinean cruiserweight ranking, who was putting in the line his belf for the third time, but who finished frustrated. Making good use of his amateur backround, Peralta, 27, avoided every atempt of the champion with his leg speed and continuos mobility. During the ten rounds, the challenger had total control of the path and rhythm of the fight, dominating the distance, conecting the most accurate blows, and even left every punch of Aumada in the air. As the minutes went by, the differences were even bigger. With intelligence, he moved with short steps blocking every angle and discharged combinations of left jabs and right crosses to the face of his furious opponent, who was never able to touch him. At the end, there was no question on the result. And after the decision, he received the recognition of the entire and full packed venue.
The scorecard expressed the difference shown on the ring, as they were announced: Carlos Azzinnaro 97-93, Javier Geido 98-92, and Héctor Miguel 100-90, all in favour of Peralta.
With this result, Peralta, who weighed 90 kg., conquers his firs title and moves on to 3 victories (1 KO), in the same amount of fights. Aumada, 90,300 kg., lost the belt he obtained knocking out Pablo Farías in the fifth round, and defended over Nahuel Martínez and Carlos Nascimento, and remains in 21 victories (16 KOs) and 7 defeats.
In an interesting co main event, unbeaten junior welterweight star, Nicolás "El Elegante" Andino (63,500 kg. and 10-0, 1 KO), from Villa Caraza, Buenos Aires, defeated Gonzalo Herrera (63 kg. and 3-4, 2 KOs), form Tucumán, by a six round wide unanimous decision. The scorecard were: Javier Geido 60-54, Carlos Azzinnaro 60-55, and Mirta Jara 60-54½.
In an explosive super middleweight fight, unbeaten heavy puncher Matías "Monzón" Lovera (75,600 kg. and 13-0-1, 10 KOs), from Goya, Corrientes, destroyed Jorge "Piedrita" Caraballo (76 kg. and 13-12-1, 3 KOs), form Santa Fe, by a strong technical knock out in the second round, after sending him down once in the first round and once in the second.
In other results, in bantamweight division, former Argentinean national team, Florencia "La Cordo" Juárez (52,800 kg. and 4-0), from Córdoba, dominated Ángela Sánchez (52,400 kg. and 0-2), from San Miguel, Buenos Aires, by a four round wide unanimous decision. The scorecard were: Carlos Azzinnaro 40-36½, Héctor Miguel 40-36, and Mirta Jara 40-36½.
Finally, in cruiserweight division, Federico "Pumba" Grandone (90,300 kg. and 4-0, 2 KOs), from Buenos Aires, crushed Rolando "Peli" Yedro (89,200 kg. and 1-1-0-1 nc), from Gualeguay, Entre Ríos, by a strong technical knock out in the second round, afther sending him down once in the second chapter.