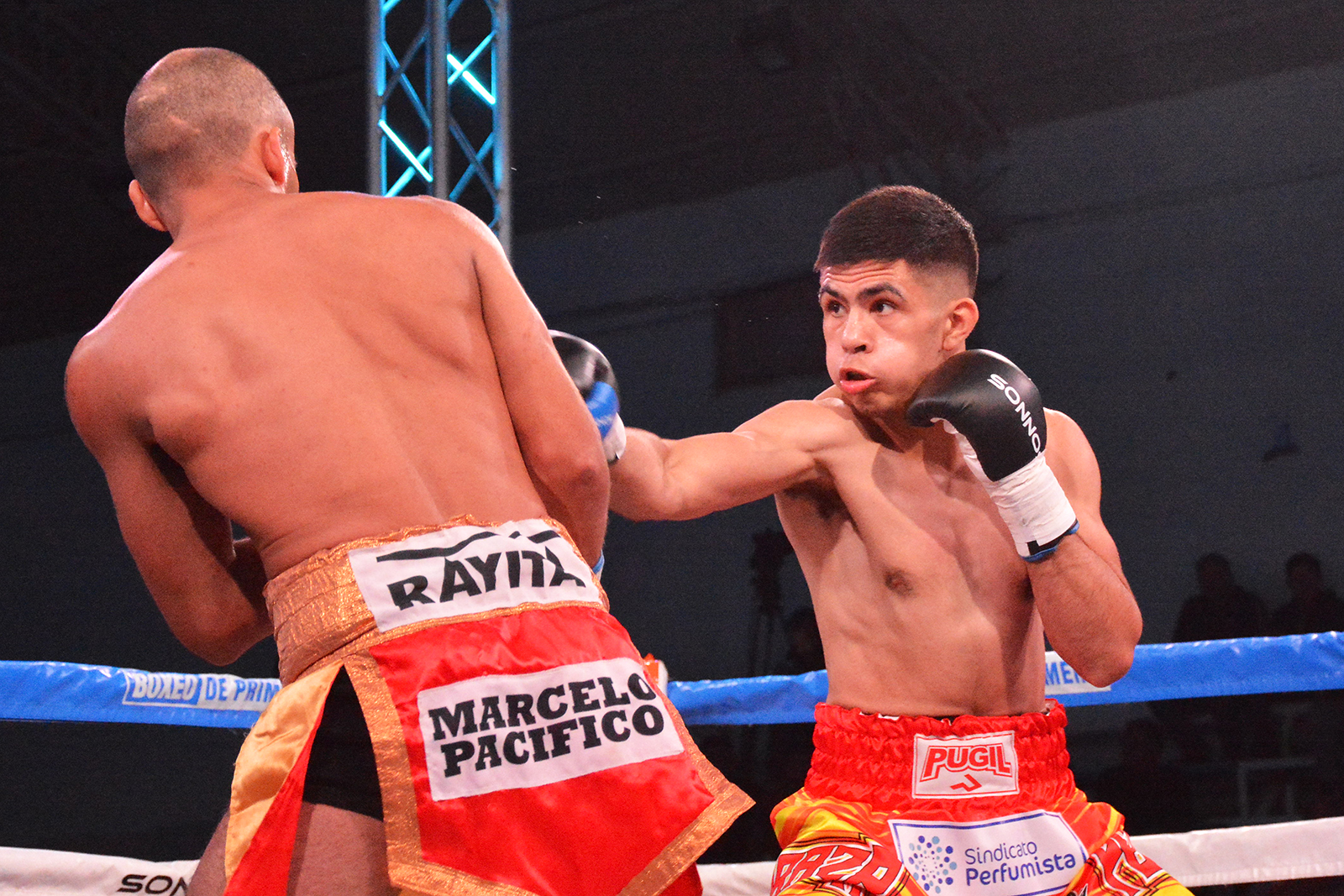 Unbeaten prospect Federico "El Zurdo" Pedraza defeated former Argentinean and Latino champion Julián "Chispita" Aristule, by a split decision after ten rounds, in a highly expected bout in featherweight division, at the main event of an exciting boxing night last Friday night at the Gimnasio Municipal Enrique Mosconi, in Cutral Có, Neuquén, Argentina, promoted by Argentina Boxing Promotions, of Mario Margossian.
In a duel between youth and experience, Pedraza, 23 years old, from San Martín, Buenos Aires, #2 of the Argentinean featherweight ranking, had to put himself into a lot of work to beat Aritule, 36, from Laboulaye, Córdoba, via Pergamino, Buenos Aires, #6 of the Argentinean featherweight ranking, former Argentinean and World Boxing Organization (WBO) Latino junior featherweight champion, who complicated him a lot and even sent him to the canvas in the fourth round. After "El Zurdo" clearly dominated the first three chapters, due to his fast movementes and quick and accurate jabs and crosses to the face, "Chispita" made good use of his expertise and connected a strong left cross to the temple of Pedraza, who went down. From that point onwards, the bout changed. Aristule took the initiative and put pressure. Although there were't many strong punches, the veteran's experience allowed him to find the way to put in trouble the young prospect. But with both struggling in the end, the unbeaten connected a few left crosses to the jaw, they reached the final bell with a very narrow difference, to end the fight.
The scorecard expressed the short difference, as they were announced: Oscar Torres 96-94, Héctor Álvarez 95-94, both in favour of Pedraza, and Aldo Burgard 96-93 for Aristule.
With this result, Pedraza, who weighed 126 lbs., who defeated Matías Leiva and Sergio Estrela, and came after last April 27th when he dominated Mauro Barrios by unanimous decision in Lanús, Buenos Aires, moves on to 11 victories (1 KO) and 1 draw. Aristule, 124.5 lbs., who has beat Fabián Orozco -twice-, Lucas Báez, Guillermo Soloppi -twice-, Alan Luques Castillo, and lost against names like Emanuel Cusolito, Oscar Escandón, Isaac Dogboe, Alberto Melián and Héctor Sarmiento, and came after being stopped by Venezuelan contender Ángel Rodríguez in the 5th round on July 6th, in Barranquilla, Colombia, remains in 34 victories (17 KOs), 12 defeats and 1 no contest.
In the co main event, in lightweight division, heavy puncher Damián "Chiva" Rojas (131.6 lbs. and 11-2, 9 KOs), from Cutral Có, Neuquén, destroyed Martín "El Loco" Severo (130.9 lbs. and 14-11-3, 5 KOs), from Salto, Uruguay, by a strong technical knock out in the second round, after sending him down once in the first and once in the sencond, forcing referee Ariel Álvarez stop the bout when the Uruguayan corner was throwing the towel.
Also, in a rematch in cruiserweight division, Jairo "El Chico 10" Díaz (198.4 lbs. and 6-7, 1 KO), from Neuquén, defeated Nicolás "Pupi" Argañaraz (196.2 lbs. and 8-2, 2 KOs), from González Catán, Buenos Aires, by a split decision after six rounds, and took revenge of their clash on December 14th, 2017, when Argañaraz won a four round unanimous decision in Villa Domínico, Buenos Aires. The scorecard were: Aldo Burgard 59-57½, Héctor Álvarez 59-57½, both for Díaz, and Oscar Torres 58½-57½ for Argañaraz.
Finally, in lightweight division, Yamila Abellaneda (134 lbs. and 7-4, 3 KOs), from San Juan, beat Alejandra Reinoso (134.4 lbs. and 1-6-1), from San Martín, Mendoza, by unanimous decision after four rounds. The scorecard were: Héctor Álvarez 39½-38½, Oscar Torres 39½-38, and Aldo Burgard 39-38½.