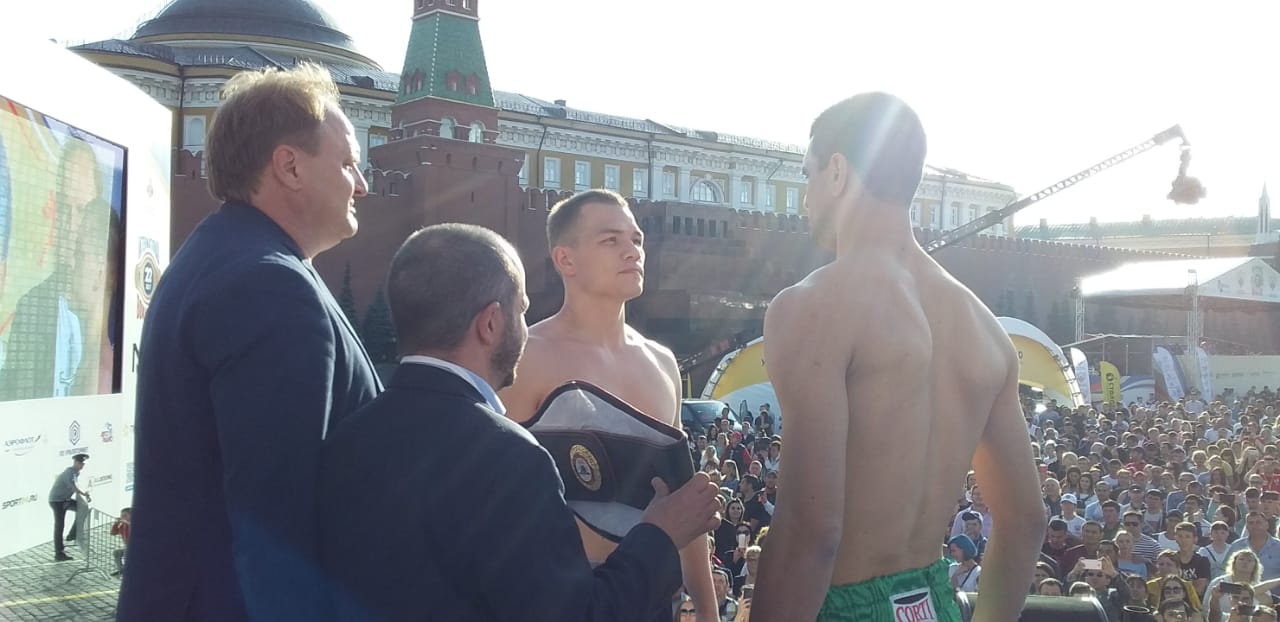 Multiple Argentinean and Latino champion Ezequiel "Olímpico" Maderna will face former Russian world champion Fedor Chudinov, trying to dethrone him of his World Boxing Association (WBA) Continental super middleweight title, at the main event of an exciting boxing night this Monday night at the Red Square, Moscow, Russia, promoted by Patriot Boxing Promotions, and a new challenge for Argentina Boxing Promotions, of Mario Margossian, which will be televised live on TyC Sports at 2 pm., for Argentina and the whole American continent.
In what is expected an exciting clash, Maderna (26-5, 16 KOs), Olympian in Beijing 2008, two time Argentinean super middleweight champion, and former World Boxing Organization (WBO) and World Boxing Council (WBC) Latino super middleweight monarch, and WBC Latino light heavyweight champion, comes after losing against world champion José Uzcategui by decision on Septembre 28th, in Los Ángeles, USA. Now he will take on Chudinov (20-2, 14 KOs), former WBA super middleweight world champion, current # 3 of the WBA super middleweight ranking, # 6 WBC and # 6 of the International Boxing Federation (IBF), who will try to defend for the first time the belt he conquered last May 16th, when he destroyed Dominacan Rafael Bejaran in the second round in Kazan, Russia.
On Sunday afternoon, both fighters made the weight on the scales, at a full packed Red Square, leaving everything ready for their bout, which will be the main atraction of the annual festivities of the "International Russian Boxing Day". Both Maderna and Chudinov weighed 168 lbs.
After getting off the scales, the 32 year old Maderna, from La Plata, who is promoted and managed by Argentina Boxing Promotions, said: "I feel wonderful and I want to get on the ring right away to fight. It is a big challenge, by I want to fight the best. Chudinov is a great fighter, former world champ, but I trust my experience and my preparation to beat him".
And he went on: "I am in a great shape. We have studied Chudinov and we know what kind of boxer he is, skillful, strong and fighting at home. But we are confident in my own skills".
"This is a huge opportunity. I want to thank Mario Margossian for getting it for me. Although I have a great opponent in front of me in Chudinov, I didn't come just to compete, I came to get the victory and to take that belt home with me", he ended.
Maderna has defeated fighters like Rubén Acosta, Claudio Ábalos, Jorge Rodríguez Olivera, Darío Balmaceda, Oscar Véliz, before losing against Edwin Rodríguez in Montecarlo, Monaco, and Thomas Oosthuizen in Kempton Park, South Africa. After that, he defeated Richard Vidal, José Clavero and Wenceslao Mansilla, and he was only stopped by current world champion Artur Beterbiev in Montreal, Canada. After that, he defeated Walter Sequeira and Martín Ríos before his fight with Uzcategui.
Chudinov, 31, from Bratsk, destroyed Ben McCulloch to capture the WBA super middleweight interim world title, and after that defeated Felix Sturm by split decision and conquered the WBA super middleweight regular world title in Frankfurt, belt he defended against Frank Buglioni, but lost to Sturm by majority decision. After being stopped by George Groves, he has won six fights in a row, including Ryan Ford and Nadjib Mohammedi, prior his victory over Bejaran.