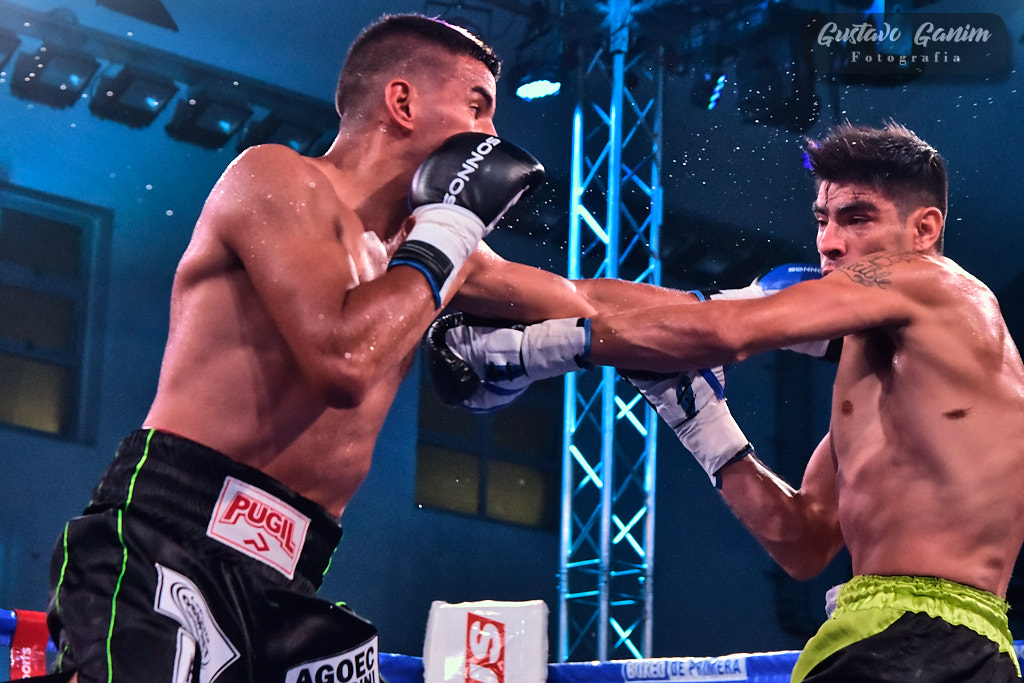 Former Latino champion and rising prospect Luis "Lucho" Verón crushed heavy puncher Daniel "Cainchi" Aquino, by a strong knock out in the second round, and conquered the South American welterweight vacant title, in a highly expected rematch, at the main event of an exciting boxing night last Friday night at the Palacio de Los Deportes, in Mar del Plata, Buenos Aires, Argentina, promoted by Argentina Boxing Promotions, of Mario Margossian.
In a top level performance, Verón, from José León Suárez, Buenos Aires, current # 4 of the Argentinean welterweight ranking, former World Boxing Organization (WBO) Latino welterweight champion as well as former # 4 of the WBO welterweight world ranking, dominated from the first bell and destroyed Aquino, from Paraná, Entre Ríos, in a heavy way, even stronger than their first clash on July 20th, 2018, when the 27 year-old Verón knocked him out in the fifth round in San Martín, Buenos Aies. This time, after controlling every action in the first chapter, with a fast foot word and combinations of left jabs and right crosses to the head, in the second, his efficiency became even stronger. In total control, "Lucho" came out and pressured with continuous jabs followed by crosses and uppercuts, adding also his hooks to the body. When "Cainchi" tried to respond, he connected a powerful right cross that smashed the left eye and temple of an opponent who went down badly stunned to the canvas. Although Aquino tried to get back on his feet, he was visibly hurt so the referee Cesáreo Morales reached the ten count which generated the recognition of the whole audience that packed the venue.
With this result, Verón, who weighed 145.9 lbs., who has defeated fellowmen Gabriel Ledesma, Aquino, Jonathan Eniz, Adolfo Moreschi, and a draw against Maximiliano Verón, before his only loss on November 9th against Englishman Michael McKinson on the cards in London, England, conquers a new belt, and moves on to 18 victories (9 KOs), 1 loss and 2 draws. Aquino, 145.6 lbs., who has beaten Alfredo Blanco, Daniel López and Ramón Sena and came from a draw against Ledesma on October 25th, remains in 18 victories (13 KOs), 7 defeats and 1 draw.
In the co main event, in welterweight division, unbeaten rising star Nicolás "El Elegante" Andino (146.8 lbs. and 13-0, 2 KOs), from Villa Caraza, Buenos Aires, dominated experienced Julio "El Lobito" Ruiz (141.9 lbs. and 15-11-0-1 nc, 3 KOs), from Mar del Plata, by majority decision after six rounds. The scorecard were: Guillermo Armani 57½-57½, Roberto Minjolou 58½-57½, and Juan Cruz Minjolou 59-56½, after the loser was deducted one point in the sixth chapter by the referee Andrés Chaves due to continuous fouls.
Also, in cruiseryweight division, Ezequiel "El León" Acosta (177.8 lbs. and 4-0, 3 KOs), from Mar del Plata, destroyed Cristhian Fernández (177.4 lbs. and 3-3, 1 KO), from Paraguay, via Pilar, Buenos Aires, by a strong technical knock out in the first round, after generating him a standing count and in the next action the referee Cesáreo Morales stopped the bout due to lack of response.
Finally, lightweight division, debutant Lucrecia Manzur (133.8 lbs. and 1-0), from San Miguel de Tucumán, defeated debutant Celeste Sosa (132 lbs. and 0-1), from Mar del Plata, by unanimous decision after four rounds. The scorecard were: Guillermo Armani 40-37, Juan Cruz Minjolou 40-36, and Roberto Minjolou 40-36.