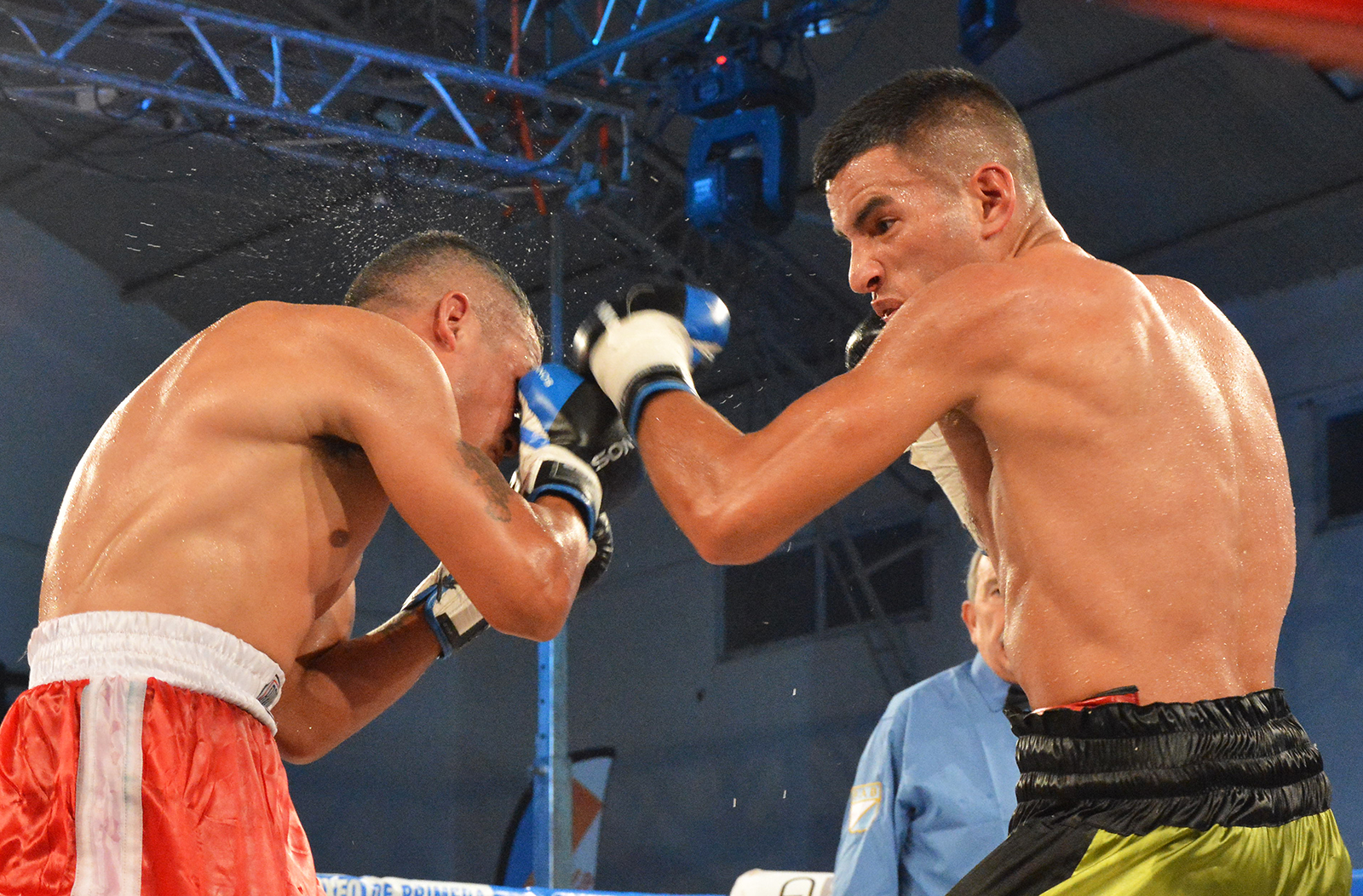 World Boxing Organization (WBO) Latino welterweight champion, unbeaten top clasified prospect Luis "Lucho" Verón, dominated Maximiliano "El Picante" Verón, but the bout ended in a draw, by a surprinsing split decision after ten rounds, for the vacant World Boxing Council (WBC) welterweight title, at the main event of an exciting boxing night last Friday night at the Gimnasio Municipal Enrique Mosconi, in Cutral Có, Neuquén, Argentina, promoted by Argentina Boxing Promotions, of Mario Margossian.
In a competitive clash, but widely controlled by the unbeaten prospect, Luis Verón, from José León Suárez, Buenos Aires, former member of the Argentinean amateur national team, current # 6 of the WBO welterweight world ranking and # 3 of the national welter lists, clearly dominated Maximiliano Verón, from Luján. Due to his technique, speed and the precision of his blows, he generated unquestionable differences over a brave opponent, who barely connected punches in the first chapter and isolatedly during the rest. With his dominance of the ring, the former member of the Argentinean team combined his lefts in jab and cross, with right crosses and upperctus to the face of an opponent who had to retreat several times. Dispite few attempts from "El Picante" landing on the body, "Lucho" controlled the path of the fight and even extended visible differences, cutting the rhythm of the actions. As the rounds went by, the distance grew bigger. The 26 year-old unbeaten rising star combined almost easily his jabs with continuous right crosses to the chin, making obvious damage. His victory should have been unquestionable, so when the decision was announced the whole stadium was stunned, the same as the undefeated prospect, who for the second consecutive time suffers a draw when he was worthy of the victory.
The scorecard did not express the difference shown on the ring, as they were announced: Jorge Garayo 97-93 in favour of Luis Verón, Ramón Cerdán 96-94 for Maximiliano Verón, and Jesuan Letizia 95-95.
With this result, Luis Verón, who weighed 146.3 lbs., who has four defenses of the WBO Latino title he conquered on April 27th, 2018, when he dethroned Gabriel Ledesma by majority decision and retained beating Daniel Aquino, Jonathan Eniz, Adolfo Moreschi and with a draw to Marcelo Bzowski, to move on to 17 victories (8 KOs) and 2 draws. Maximiliano Verón, 146.3 lbs., remains in 11 victories (4 KOs), 3 losses, 1 draw and 1 no contest.
In the co main event, in bantamweight division, rising prospect Luciano "Yiyo" Baldor (115.7 lbs. and 13-2, 1 KO), from Burzaco, Buenos Aires, dominated Héctor "El Duende" Gusmán (115 lbs. and 15-5, 9 KOs), from Santiago del Estero, by a six round wide unanimous decision. The scorecard were: Jesuan Letizia 60-54, Aldo Burgard 60-55, and Jorge Garayo 59-55½.
In other results, in welterweight division, Matías Díaz (146.8 lbs. and 6-4-1, 1 KO), from Lobos, Buenos Aires, defeated Claudio Franco (144.4 lbs. and 5-1, 2 KOs), from José C. Paz, Buenos Aires, by a four round unanimous decision. The scorecard were: Jorge Garayo 39½-38½, Ramón Cerdán 39-37, and Aldo Burgard 39½-38½
Finally, in junior welterweight division, Sebastián Chaves (139.3 lbs. and 4-1, 1 KO), from San Miguel, Buenos Aires, beat Ángelo "El Muñeco" Zappi (137.5 lbs. and 4-3, 1 KO), from Comodoro Rivadavia, Chubut, by a four round split decision. The scorecard were: Jesuan Letizia 39-37, Jorge Garayo 38½-38, both for Chaves, and Aldo Burgard 39-37 for Zappi.