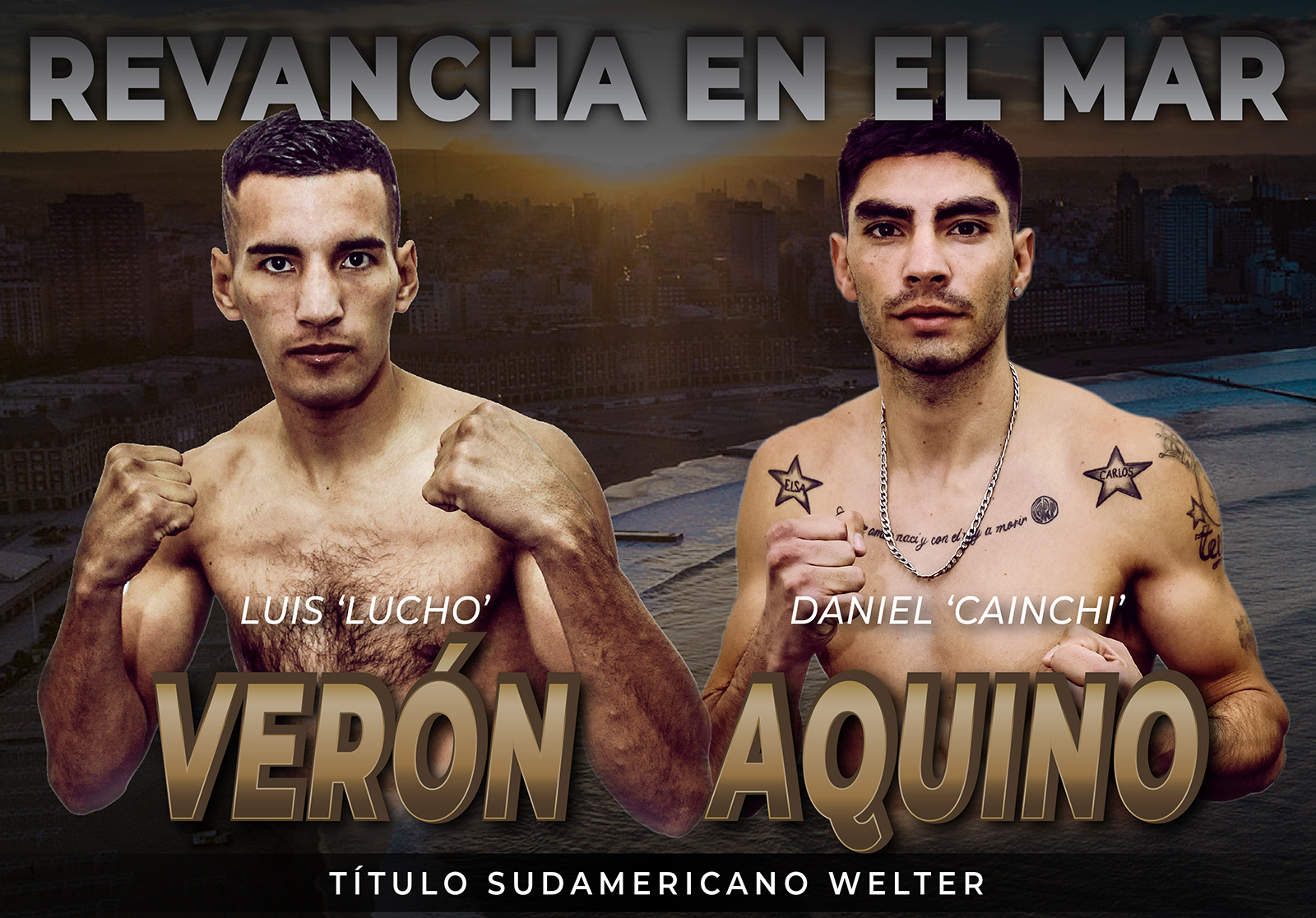 Former Latino champion and rising prospect Luis "Lucho" Verón will face heavy puncher Daniel "Cainchi" Aquino, trying to conquer the South American welterweight vacant title, in a highly expected rematch, at the main event of an exciting boxing night this Friday night at the Palacio de Los Deportes, in Mar del Plata, Buenos Aires, Argentina, promoted by Argentina Boxing Promotions, of Mario Margossian, which will be televised live on TyC Sports at 10 pm., for Argentina and the whole American continent.
They know each other very well. On July 20th, 2018, Verón (17-1-2, 8 KOs), from José León Suárez, Buenos Aires, crushed Aquino (18-6-1, 13 KOs), from Paraná, Entre Ríos, by a strong knock out in the figth round and defended his World Boxing Organization (WBO) welterweight title in San Martín, Buenos Aies. After that, the 27 year-old Verón, current # 4 of the Argentinean welterweight ranking, who has defeated fellowmen Gabriel Ledesma, Jonathan Eniz, Adolfo Moreschi, and a draw against Maximiliano Verón, became # 4 of the WBO welterweight world ranking, before his only loss on November 9th against Englishman Michael McKinson on the cards in London, England. Now, he will face again the 31 year-old Aquino, three times Latino challenger, who has beaten Alfredo Blanco, Daniel López and Ramón Sena comes from a draw against Ledesma on October 25th in Buenos Aires, and aims to get his revenge.
In the co main event, in junior welterweight division, unbeaten rising star Nicolás "El Elegante" Andino (12-0, 2 KOs), from Villa Caraza, Buenos Aires, faces experienced Julio "El Lobito" Ruiz (15-10-0-1 nc, 3 KOs), from Mar del Plata, in a matchup scheduled to six rounds.
Also, in light heavyweight division, Franco "El León" Acosta (3-0, 2 KOs), from Mar del Plata, takes on Cristhian Fernández (3-2, 1 KO), from Paraguay, via Pilar, Buenos Aires, in a bout scheduled to four rounds.
Finally, lightweight division, debutant Celeste Sosa, from Mar del Plata, faces debutant Lucrecia Manzur, from San Miguel de Tucumán, in a bout scheduled to four rounds.