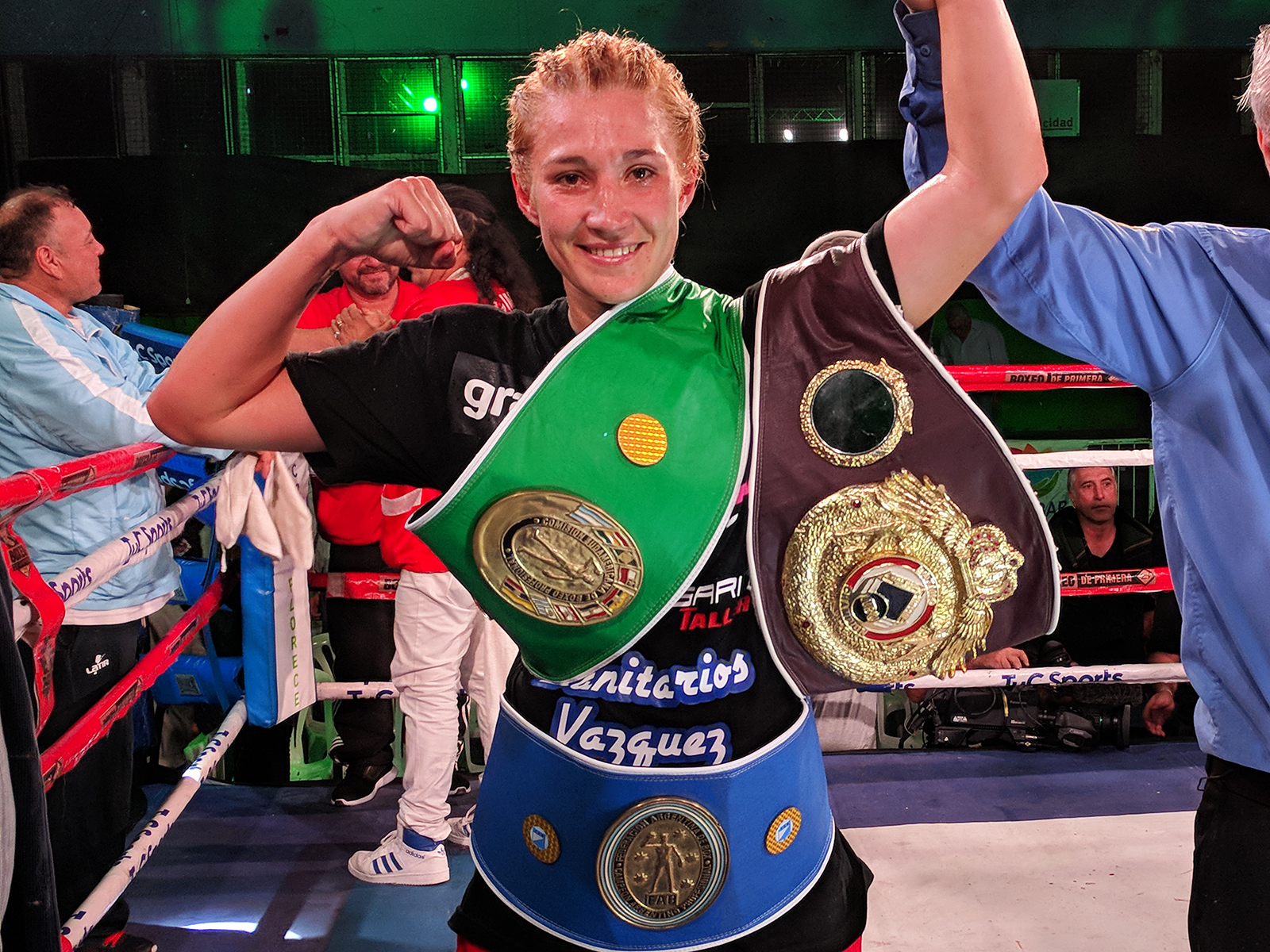 South American lightweight and World Boxing Organization (WBO) Latino lightweight female champion, unbeaten prospect Macarena "La Diablita" Ledesma, defeated Argentinean lightweight female monarch, former world champion Marisa "La Brava" Núñez, by a ten round wide unanimous decision, and unified the titles, at the main event of an exciting boxing night last Saturday night at the Polideportivo Municipal Luis Monti, in Belén de Escobar, Buenos Aires, Argentina, promoted by Argentina Boxing Promotions, of Mario Margossian.
In a clash of champions, Ledesma, from Escobar, also WBO Latino monarch and #1 of the Argentinean lightweight ranking, dominated from the first bell to the end Núñez, from Tandil, Buenos Aires, former South American and International Boxing Federation (IBF) junior welterweight world champion, who was unable to do anything. With her long reach, correct leg job and the accuracy of her blows, the 24 year old rising star made good use of her left jabs followed by strong right crosses the face. As the rounds went by, differences were even larger, and started frustrating the tough Núñez, who dispite her attempts, never reached destiny. Even more, the former world champ grabbed a lot and used her head as a third punch, and after many headbutts, the referee Gustavo Tomas deducted a point from her in the eighth round. With everything under control, "La Diablita" continued her job and secured a wide and well diserved triumph.
The scorecard expressed the difference shown on the ring, as they were announced:  Alejandro Bokser 99-90, Juan Carlos Palmieri 96-93, y Ramón Cerdán 99-90, all in favour of Ledesma.
With this result, Ledesma, who weighed 61,200 kg., defended for the first time her South American title that she conquered last June 16th dominating Melsa Dozo by unanimous decision, and was coming after obtaining her WBO Latino belf over Uruguayan Paola Ibarra by unanimous decision, to move on to 10 victories (2 KOs), in the same amount of fights. Núñez, 60,550 kg., who had previously defeated Mónica Acosta to conquer her IBF junior welterweight world title, lost the Argentinean crown she obtained on May 12th by a technical knock out in the fourth round over Ruth Aquino, remains in 8 victories (1 KO), 10 losses and 2 draws.
In an interesting co main event, in junior middleweight division, Marcelo Bzowski (69,200 kg. and 10-8-2), from Avellaneda, Buenos Aires, defeated José "El Chino" Castillo (69,800 kg. and 8-3-1, 6 KOs), from Santa Fe, by a ten round split decision. The scorecard were: Juan Carlos Palmieri 96½-93½, Alejandro Bokser 98-91, both for Bzowski, and Ramón Cerdán 96-93 for Castillo.
In other results, in junior welterweight division, two time Latino champion Germán "El Correntino" Benítez (63,500 kg. and 21-3-0-1 nc, 9 KOs), from Escobar, dominated former Latino monarch Ramón "El Correntino" Sena (63,500 kg. and 22-23-3, 13 KOs), from Mercedes, Corrientes, by a six round unanimous decision, after the loser was deducted one point in the fourth for hitting after the break indication. The scorecard were: Juan Carlos Palmieri 58½-55½, Ramón Cerdán 58-55, and Alejandro Bokser 59-54½.
Finally, in flyweight division, Jonatan "Finito" Molina (50 kg. and 3-0-1-2 nc, 1 KO), from Gobernador Martínez, Corrientes, and Damián "El Correntino" Delgado (51,100 kg. and 4-4-1, 2 KOs), fought to a draw by a four round majority decision, after Delgado went down in the first and third chapters, and Molina was deducted one point in the fourth. The scorecard were: Alejandro Bokser 37-37, Ramón Cerdán 37-37, and Juan Carlos Palmieri 39-35½ for Molina.