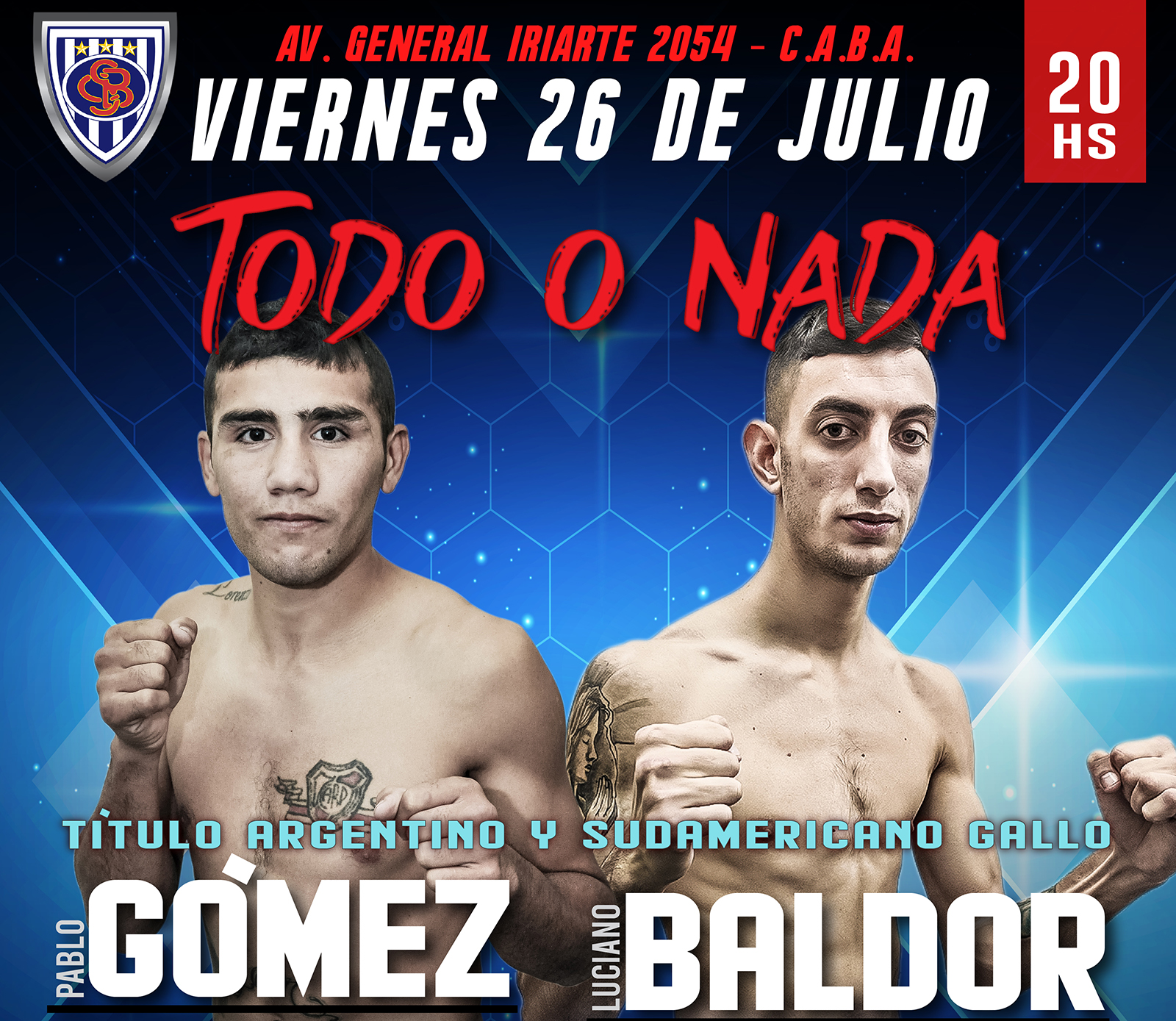 South American bantamweight champion, Pablo "Pablito" Gómez, will face rising prospect Luciano "Yiyo" Baldor, trying to defend for the first time his title and to conquer the vacant Argentinean bantamweight title, at the main event of an exciting boxing night this Friday night at the Club Sportivo Barracas, in Buenos Aires, Argentina, promoted by Argentina Boxing Promotions, of Mario Margossian, which will be televised live on TyC Sports at 11 pm., for Argentina and the whole American continent.
In what is expected to be an action packed fight, Gómez (11-9-2, 1 KO), 28 years old, from Los Polvorines, Buenos Aires, current # 3 of the Argentinean bantamweight ranking, will try to defend for the first time the title he captured on July 28th, 2018, when he dethroned previously unbeaten Carlos Sardínez by unanimous decision in Villa Carlos Paz, Córdoba, and comes from a victory on February 9th over Miguel Salazar also by unanimous decision in Buenos Aires. Now he will clash against the tall Baldor (13-2, 1 KO), 25, from Burzaco, Buenos Aires, # 2 of the Argentinean bantamweight lists, with a suprising height of 5′ 11″ for the division, and beat previously unbeaten Juan Jurado -Argentinean and Latino champ- by unanimous decision and comes after dominating Héctor Gusmán unanimously on June 7th in Cutral Có, Neuquén.
In the co main event, in super middleweight division, unbeaten heavy puncher Matías "Monzón" Lovera (13-0-1, 10 KOs), from Goya, Corrientes, faces experienced Dominican Basilio "El Cacu" Silva (24-18, 21 KOs), from San Francisco de Macoris, in a matchup scheduled to eight rounds.
Also, in junior lightweight division, heavy puncher Damián "Chiva" Rojas (9-1, 8 KOs), from Cutral Có, Neuquén, takes on Daniel "Zurdo" Sosa (4-3), from Salta, in a bout scheduled to six rounds.
In junior lightweight division, rising prospect Facundo "Topo" Arce (9-2-1, 3 KOs), from Marcos Paz, Buenos Aires, faces Martín "El Negro" Rocha (4-5, 1 KO), form San Miguel, Buenos Aires, in a bout scheduled to six rounds.
In junior welterweight division, Nicolás "Nico" Demario (9-4-2, 5 KOs), from Ranchos, Buenos Aires, takes on Maximiliano Guerra (3-2-1, 1 KO), from San Martín, Buenos Aires, in a bout scheduled to four rounds.
Finally, in welterweight division, debutant Ricardo "El Lobby" Cabaña, from Buenos Aires, faces debutant Ángel Bolatti, from Escobar, Buenos Aires, in a bout scheduled to four rounds.