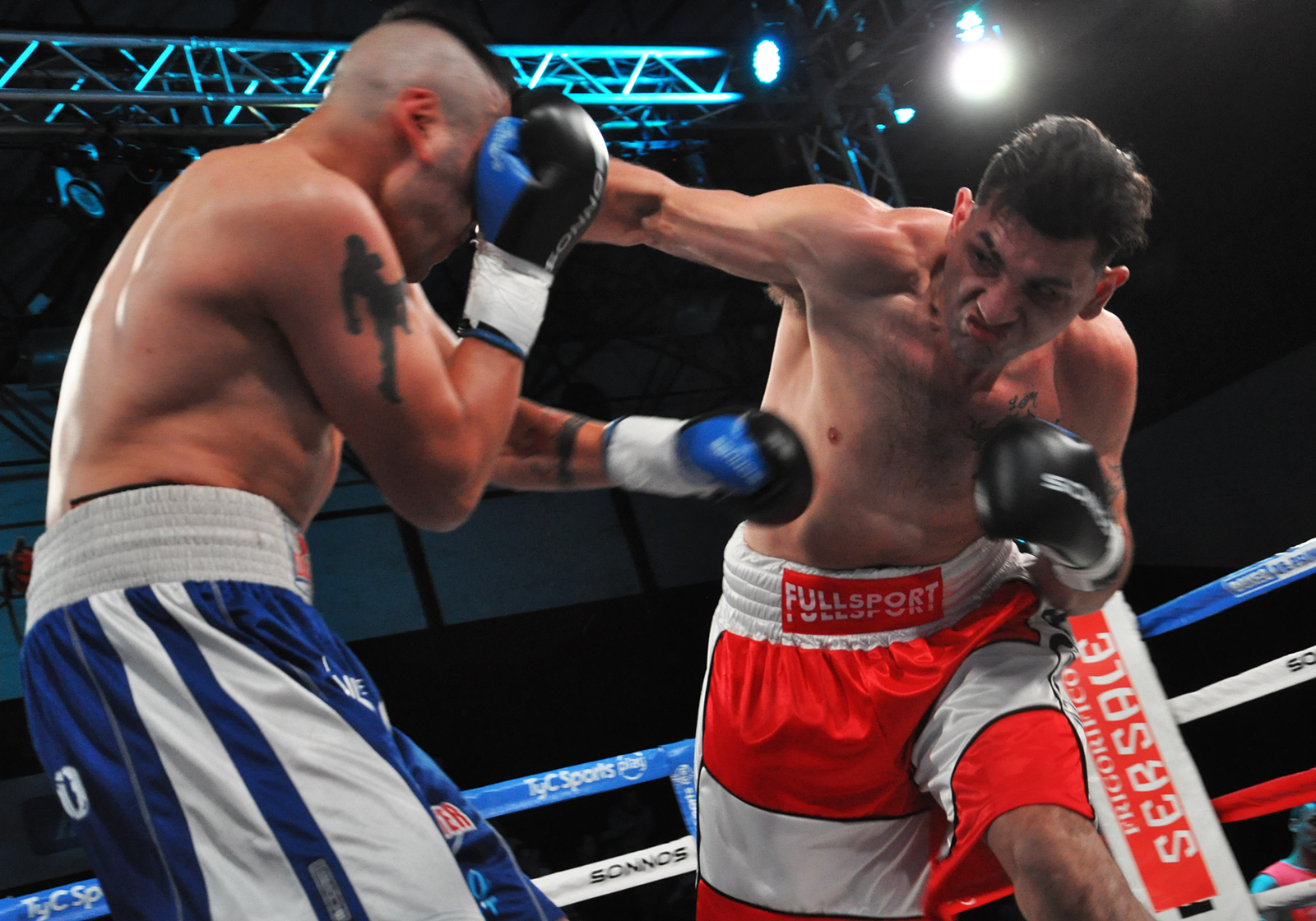 World Boxing Organization (WBO) Latino middleweight champion, unbeaten prospect Marcelo "El Terrible" Cóceres, dominated Germán "El Martillo" Peralta, by a wide unanimous decision after ten rounds, and conquered the World Boxing Association (WBA) Fedebol middleweight vacant title, at the main event of an exciting boxing night last Saturday night at the Club Atlético Huracán, in Buenos Aires, Argentina, promoted by Argentina Boxing Promotions, of Mario Margossian.
In an expected action packed fight, Cóceres, 28 years old, from Villaguay, Entre Ríos, #11 WBO middleweight ranking and #1 of the Argentinean middleweight ranking, as well as former International Boxing Federation (IBF) Latino junior middleweight champion and World Boxing Council (WBC) Latino middleweight monarch, exhibited a great deal of his well known skills to subdue Peralta, 29, from Florencio Varela, Buenos Aires, who was visibly punished and hurt. Taking total control from the first bell, the unbeaten top prospect marked his distance with his left jab followed by strong right crosses and uppercts to the head. As the rounds went by, differences grew bigger. Even more, in the fourth, "El Terrible" pushed forward and battered his opponent first with three powerful crosses to his nose -causing a deep hemorrhage- combined with two devastating left hooks to the liver of Peralta, who went down on the canvas, visibly hurt. Although he got up, Cóceres went on him again and battered him with huge combinations to the head and body, leaving him wobbling, only saved by the bell. In the following chapters, Cóceres made his advantage bigger and was close to finishing the brave "Martillo", who put all his heart to keep going on. Nevertheless, the punishment was a lot. "El Terrible" continued causing him strong pain on each barrage of punches. And after the final bell, everybody in the packed venue knew who was the winner.
The scorecard expressed the difference shown on the ring, as they were announced: Carlos Azzinnaro 98-91, Edgardo Codutti 97-92, and Héctor Miguel 99-90, all in favour of Cóceres.
With this result, Cóceres, who weighed 159.3 lbs., who defeated César Reynoso, Sergio Sanders, Mateo Verón and Sebastián Luján, on August 18th, 2018, dominated Cristian Zárate to conquer his WBO Latino belt and after that punished Brazilian Davi Eliasquevici, dominican Basilio Silva and came after destroying Carmelito De Jesús in seven rounds on April 5th, at this same venue, moves on to 28 victories (15 KOs) and 1 draw. Peralta, 159.7 lbs., remains in 7 victories, 6 defeats and 5 draws.
In the co main event, in junior welterweight division, unbeaten rising star Nicolás "El Elegante" Andino (139.5 lbs. and 12-0, 2 KOs), from Villa Caraza, Buenos Aires, destroyed Gustavo "Peluquín" Reales (140 lbs. and 6-6, 3 KOs), from Salta, by a strong technical knock out in the third round, after sending him down with a powerful right cross to the chin and forcing ref Gerardo Poggi to stop the count.
Also, in a rematch in junior lightweight division, heavy puncher Damián "Chiva" Rojas (129.6 lbs. and 10-2, 8 KOs), from Cutral Có, Neuquén, dominated Daniel "Zurdo" Sosa (128.8 lbs. and 5-4, 1 KO), from Salta, by a six round wide unanimous decision, and took revenge of what happened last July 26th, when an accidental clash of heads caused by Sosa originated a deep cut in Rojas, but the referee sanctioned a technical knock out in the fourth chapter for Sosa in a highly controversial decision. The scorecard were: Edgardo Codutti 59-55, Carlos Azzinnaro 59½-56, and Jorge Basile 59½-56.
In bantamweight division, former Argentinean national team, Florencia "La Cordo" Juárez (116.1 lbs. and 6-0, 1 KO), from Córdoba, defeated Carla "Muñeca" Merino (116.8 lbs. and 1-1), from Río Cuarto, Córdoba, by a four round majority decision. The scorecard were: Héctor Miguel 38-38, Carlos Azzinnaro 39-38½, Jorge Basile 40-37.
Finally, in cruiserweight division, Federico "Pumba" Grandone (198 lbs. and 4-0-1, 2 KOs), from Buenos Aires, and Gustavo "El Volcán" Schmitt (192.3 lbs. and 4-10-1), from Florencio Varela, Buenos Aires, ended in a draw by a four round split decision. The scorecard were: Jorge Basile 39-38 for Schmitt, Edgardo Codutti 39-37 for Grandone, and Carlos Azzinnaro 38-38.