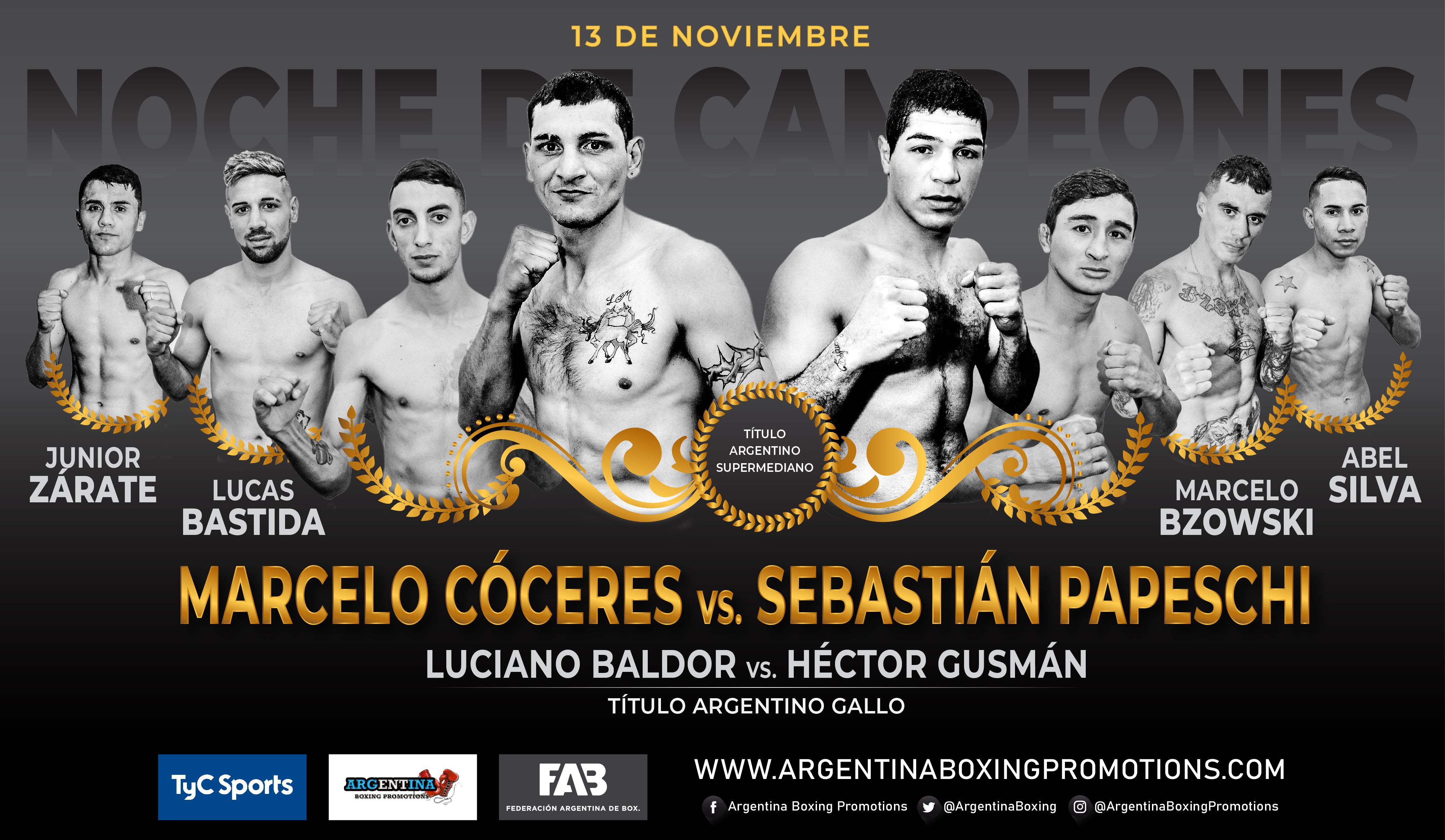 Argentinean Boxing hits again with an action packed night filled with champions and big names brought by Argentina Boxing Promotions on TyC Sports. Multiple Latino champion and former world title challenger, Argentinean star Marcelo "El Terrible" Cóceres, will face former South American champion, countryman Sebastián "La Promesa" Papeschi, trying to conquer the Argentinian super middleweight interim title, at the main event of an exciting boxing night on Friday, November 13th, at the Club Atlético, Social y Deportivo Camioneros, in Luis Guillón, Buenos Aires, Argentina, promoted by Argentina Boxing Promotions, of Mario Margossian, which will be televised live on TyC Sports, to Argentina, the United States and the whole continent, 11:30 p.m. Argentina, 9:30 p.m. USA (ET).
Cóceres-Papeschi is another fight co promoted with Sampson Boxing, of Sampson Lewkowicz, in a new example of both companies initiative of facing the best against the best.
In the co main event of the evening, in a rematch, Argentinian and South American bantamweight champion, rising prospect Luciano "Yiyo" Baldor, will face Héctor "El Duende" Gusmán, trying to defend for the first time his national belt.
This will be the second event of the awaited return of boxing on Argentinian soil since the irruption of the Coronavirus COVID-19 pandemic, and will be in charge of the same company that promoted the first show of the return, on October 30th at the same venue, as well as the last boxing show in the country pre pandemic, on March 13th in Buenos Aires. After months of hard and silent work the sport has its long-expected resumption, in another show behind closed doors for the public, with the strictest security controls following the health protocols issued by national and municipal health authorities, as well as the Argentinian Boxing Federation.
In what is expected to be an action packed fight, Cóceres (28-1-1, 15 KOs), 29 years old, from Villaguay, Entre Ríos, #5 of the Argentinean middleweight ranking, former International Boxing Federation (IBF) Latino super welterweight champion, World Boxing Council (WBC) Latino, World Boxing Organization (WBO) Latino and World Boxing Association (WBA) Fedebol middleweight champion, will look to reign again. After defeating every opponent in his country including Sergio Sanders, Brazilians Adonisio Reges and Claudinei Lacerda, Mateo Verón, César Vélez, Sebastián Luján, Cristian Zárate, Brazilians Davi Eliasquevici and Carmelito De Jesús, and Germán Peralta, he comes after November 9th when he was stopped after a war by British Billy Joe Saunders in the eleventh round for the WBO world super middleweight title in Los Angeles, California. Now he will face Papeschi (15-2, 6 KOs), 29, from Luján, Buenos Aires, #1 of the Argentinean super middleweight ranking, former South American super middleweight champion, who has defeated contrymen Hugo Quiroz, Francisco Torres, Tomás Reysono, Cristian Ríos, and after losing his belt against Cuban William Scull, on December 28th beat Ríos in the rematch in Zárate, Buenos Aires, and yearns for his biggest victory.
BALDOR-GUSMÁN II
In the co main event, in a rematch Argentinian and South American bantamweight champion, rising prospect Luciano "Yiyo" Baldor (15-2, 10 KOs), will face Héctor "El Duende" Gusmán (15-6, 9 KOs), trying to defend for the first time his national belt, after Baldor got the victory on June 7th, 2019, by unanimous decision after six chapters in Cutral Có, Neuquén.
With his amazing height of 5′ 11½″, Baldor, 25 years old, from Avellaneda, Buenos Aires, who after defeating lots of opponents only losing against Junior Zárate and Abel Silva, beat the odds when he defeated previously unbeaten Juan Jurado, and after that continued his run over Carlos Farías, Nicolás Aquino and Gusmán. On July 26th, 2019, he defeated Pablo Gómez by unanimous decision and conquered his Argentinian and South American belts in Buenos Aires, and comes after November 22nd, when he dominated Nicolás Botelli by unanimous decision in Buenos Aires. Now he'll face Gusmán, 33, from Santiago del Estero but based in Barrio Raffo, Buenos Aires, who has fought champions like Kazakhstan's Zhanat Zhakiyanov in Bulgaria, British Paul Butler in England, Mexican Francisco Rodríguez in Mexico, and after losing against Jurado and Baldor, on July 26th, 2019, was stopped by Chilean world challanger Miguel González in the fourth round in Punta Arenas, Chile.
BASTIDA-BZOWSKI, ZÁRATE-SILVA II
Beyond the main fights, a heated card is being prepared to complete the night. South American middleweight champion, rising prospect Lucas "El Tornado" Bastida (13-1, 7 KOs), from Mar del Plata, Buenos Aires, will face Marcelo "El Loco" Bzowski (11-12-3), from Avellaneda, Buenos Aires, in a bout scheduled to six or eight rounds.
In another great attraction of the evening, and another rematch, in super flyweight division, Argentinian flyweight champion, Junior "El Demonio" Zárate (13-2, 5 KOs), from Ibarreta, Formosa, takes on Abel "El Pumita" Silva (5-5-3, 3 KOs), from Chaco, in a bout scheduled to six or eight rounds, after Zárate won on September 21st, 2018, by unanimous decision after eight chapters in Quilmes, Buenos Aires.
The card will include other action packed fights, which will be announced shortly.