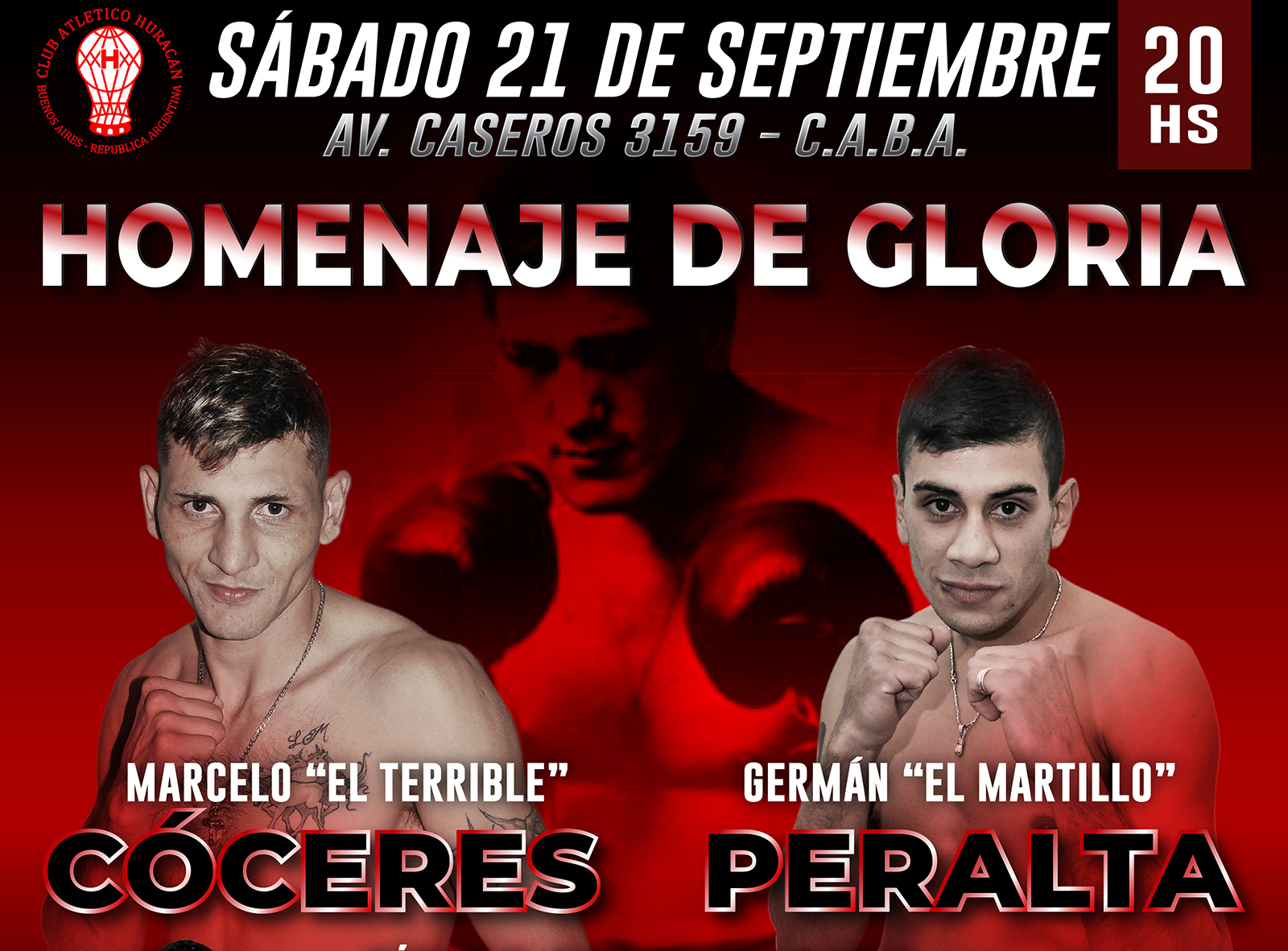 World Boxing Organization (WBO) Latino middleweight champion, unbeaten prospect Marcelo "El Terrible" Cóceres, will face Germán "El Martillo" Peralta, for the South American middleweight interim title, at the main event of an exciting boxing night this Saturday night at the Club Atlético Huracán, in Buenos Aires, Argentina, promoted by Argentina Boxing Promotions, of Mario Margossian, which will be televised live on TyC Sports at 11 pm., for Argentina and the whole American continent.
In an expected action packed fight, Cóceres (27-0-1, 15 KOs), 28 years old, from Villaguay, Entre Ríos, #11 WBO middleweight ranking and #1 of the Argentinean middleweight ranking, as well as former International Boxing Federation (IBF) Latino junior middleweight champion and World Boxing Council (WBC) Latino middleweight monarch, who deafeted César Reynoso, Sergio Sanders, Mateo Verón and Sebastián Luján, on August 18th, 2018, dominated Cristian Zárate to conquer his WBO Latino belt and after that punished Brazilian Davi Eliasquevici, dominican Basilio Silva and comes after destroying Carmelito De Jesús in seven rounds on April 5th, at this same venue. Now he will face Peralta (7-5-5), 29, from Florencio Varela, Buenos Aires, who got a draw against Dominican Henrri Polanco, defeated Marcelo Farías and lost a decision in Russia against unbeaten Sergei Shigashev, but after that beat Tomás Reynoso, and comes from April 6th. losing by decision with Jonathan Sánchez.
In the co main event, in junior welterweight division, unbeaten rising star Nicolás "El Elegante" Andino (11-0, 1 KO), from Villa Caraza, Buenos Aires, faces Gustavo "Peluquín" Reales (6-5, 3 KOs), from Salta, in a matchup scheduled to six rounds.
Also, in a rematch in junior lightweight division, heavy puncher Damián "Chiva" Rojas (9-2, 8 KOs), from Cutral Có, Neuquén, takes on Daniel "Zurdo" Sosa (5-3, 1 KO), from Salta, in a bout scheduled to six rounds, after last July 26th, when an accidental clash of heads caused by Sosa originated a deep cut in Rojas, but the referee sanctioned a technical knock out in the fourth chapter for Sosa in a highly controversial decision.
In bantamweight division, former Argentinean national team, Florencia "La Cordo" Juárez (5-0, 1 KO), from Córdoba, faces Carla "Muñeca" Merino (1-0), from Río Cuarto, Córdoba, in a bout scheduled to four rounds.
Finally, in cruiserweight division, Federico "Pumba" Grandone (4-0, 2 KOs), from Buenos Aires, takes on Gustavo "El Volcán" Schmitt (4-10), from Florencio Varela, Buenos Aires, in a bout scheduled to four rounds.