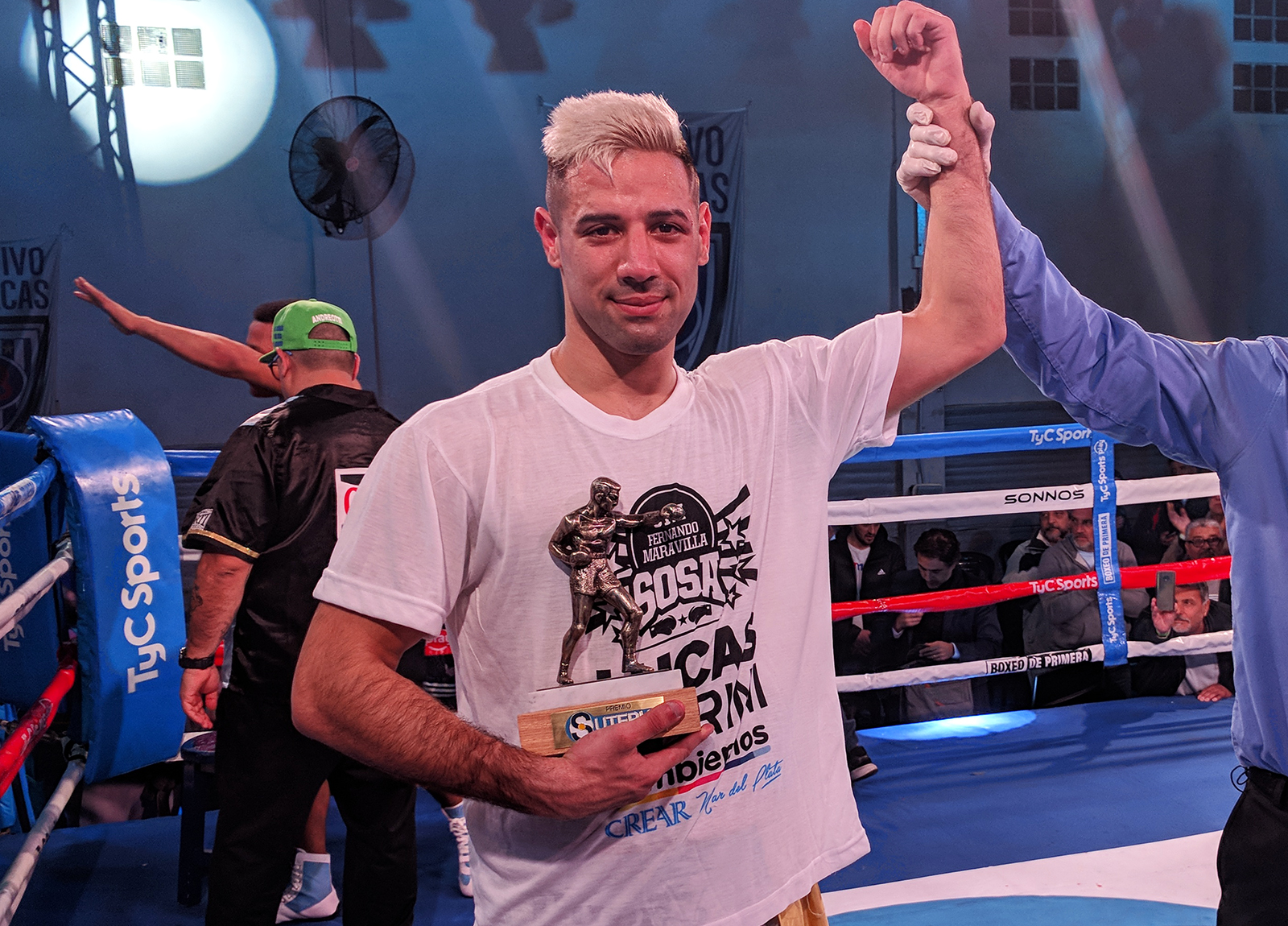 Rising prospect Lucas "El Tornado" Bastida destroyed Dominican Félix "Jay Jay" Vargas, by a strong technical knock out in the first round, in a highly expected bout in junior middleweight division, at the main event of an exciting boxing night last Friday night at the Club Sportivo Barracas, in Buenos Aires, Argentina, promoted by Argentina Boxing Promotions, of Mario Margossian.
In a short but action packed fight, Bastida, 22 years old, from Mar del Plata, Buenos Aires, current # 4 of the Argentinean junior middleweight ranking, made good honour of his nickname and crushed Vargas, 24, from Santo Domingo, but resident in Munro, Buenos Aires, who was unable to do anything at all. From the first bell, Bastida came out with determination run over him. With his longer reach and power, he combined his long left jab with his right cross and uppercuts to the face. With confidence, he discharged a strong right hook to the stomach, with which he sent him down heavily. Visibly hurt, Vargas got back on his feet, but only to delay the inevitable. "El Tornado" went out to finish hin and after a barriage of punishment, he connected a powelful right cross to his temple, to send him to the canvas again, and forcing referee Gustavo Tomás to stop the bout, that generated the celebration of the crowd who packed the venue.
With this result, Bastida, who weighed 152.4 lbs., who defeated Nicolás Verón twice, Sergio Paysse and Cristian Zárate, and who was coming from beating Uruguayan Andrés Chaparro by unanimous decision on June 8th in Mar del Plata, moves on to 11 victories (5 KOs) and 1 loss. Vargas, 153.1 lbs., who defeated Lucas Priori and Julián Gómez, has a draw against Fernando Farías, and was coming after being stopped by Adrián Sasso in the fifth round, remains in 7 victories (2 KOs), 5 defeats and 2 draws.
In the co main event, in welterweight division, former South American and Latino champion Martín "El Principito" Coggi (146.3 lbs. and 36-9-3-1 nc, 18 KOs), from Brandsen, Buenos Aires, dominated Leandro "El Gallo" Rojo (132.7 lbs. and 8-5-2), from Río Cuarto, Córdoba, by a wide unanimous decision after six rounds. The scorecard were: Mirta Jara 60-54½, Néstor Savino 60-54, and Jorge Basile 59-56.
Also, in lightweight division, Jesús "Chechu" Daneff (139.2 lbs. and 7-2-2, 3 KOs), from Cañuelas, Buenos Aires, defeated Adrián Maidana (134.2 lbs. and 7-6-1, 4 KOs), form Reconquista, Santa Fe, by a unanimous decision after four rounds, and after Daneff received a standing count in the second round, Maidana went down in the third, and received two standing counts in the fourth. The scorecard were: Néstor Savino 39-36, Javier Geido 37-35, and Mirta Jara 39-35½.
Finally, in junior welterweight division, Facundo "El Bombadero" Gómez (133.6 lbs. and 2-0), from Buenos Aires, beat Leonel Laciar (139 lbs. and 1-2, 1 KO), from Villa Carlos Paz, Córdoba, by a four round unanimous decision. The scorecard were: Mirta Jara 40-37, Javier Geido 40-36½, and Jorge Basile 39-36½.