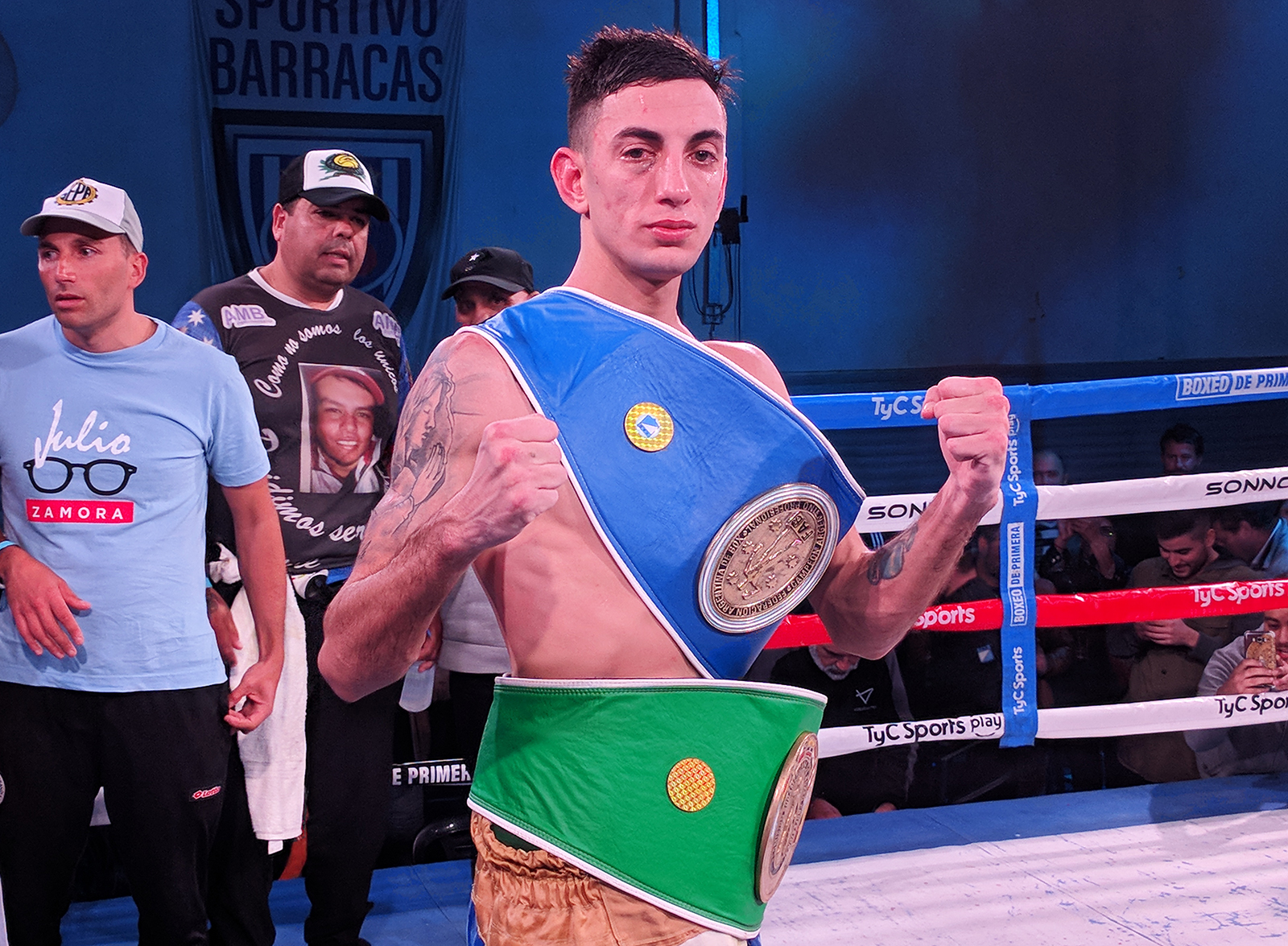 Rising prospect Luciano "Yiyo" Baldor dominated South American bantamweight champion, Pablo "Pablito" Gómez, by unanimous decision after ten rounds, and dethroned him of his crown, but also conquered the vacant Argentinean bantamweight title, at the main event of an exciting boxing night last Friday night at the Club Sportivo Barracas, in Buenos Aires, Argentina, promoted by Argentina Boxing Promotions, of Mario Margossian.
In a very competitive fight, the Baldor, 25 years old, from Burzaco, Buenos Aires, # 2 of the Argentinean bantamweight ranking, with a suprising height of 5′ 11″ for the division, made the best use of his long reach to find the best angles and connect the most accurate blows against Gómez, 28, from Los Polvorines, Buenos Aires, # 3 of the Argentinean bantamweight lists, who complicated with his speed and mobility. Although in some path of the clash, he had to give up the iniciative, "Yiyo" had to overcome some adverse rounds to get his way to impact the clearest punches and generated greater consequences on his opponent. With the fight extremely close, even and changeable, when they were alternating the control, Baldor fought better the final rounds connecting his long crosses and uppercuts to the head, to get the close decision and win his first belts precisely on his birthday, which unleashed the celebration of the entire crowd packed the venue.
The scorecard expressed the difference shown on the ring, as they were announced: Carlos Hugo Vainesman 97½-96, Javier Geido 97½-94, and Néstor Savino 97-93, all in favour of Baldor.
With this result, Baldor, who weighed 117.8 lbs., who beat previously unbeaten Juan Jurado -Argentinean and Latino champ- by unanimous decision and came after dominating Héctor Gusmán by unanimous decision, conquers his first titles and moves on to 14 victories (1 KO) and 2 losses. Gómez, 117.8 lbs., gives up the belt he captured on July 28th, 2018, when he dethroned previously unbeaten Carlos Sardínez by unanimous decision, and remains in 11 victories (1 KO), 10 defeats and 2 draws.
In a controversial co main event, in junior lightweight division, Daniel "Zurdo" Sosa (130 lbs. and 5-3, 1 KO), from Salta, stopped heavy puncher Damián "Chiva" Rojas (128.6 lbs. and 9-2, 8 KOs), from Cutral Có, Neuquén, by a technical knock out in the fourth round, after Rojas was deeply cut under his right eyebrow due to a clash of heads generated by Sosa and the doctor advised to stop the bout. Nevertheless the referee Lucas Katalinich understood the injury was caused by a blow and ruled TKO in what was an evident mistake.
Also, in lightweight division, rising prospect Facundo "Topo" Arce (131.8 lbs. and 10-2-1, 4 KOs), from Marcos Paz, Buenos Aires, destroyed Martín "El Negro" Rocha (131.2 lbs. and 4-6, 1 KO), form San Miguel, Buenos Aires, by a strong technical knock out in the sixth round, after generating a standing count in the fifth chapter, another in the sixth, and seconds later when he was battering down his opponent, the corner threw the towel and the referee Antonio Zaragoza stopped the bout.
In welterweight division, Nicolás "Nico" Demario (142.3 lbs. and 10-4-2, 5 KOs), from Ranchos, Buenos Aires, defeated Maximiliano Guerra (141.8 lbs. and 3-3-1, 1 KO), from San Martín, Buenos Aires, by a four round split decision. The scorecard were: Mirta Jara 40-37, and Hugo Vainesman 39½-37½, both for Demario, and Néstor Savino 39-37 for Guerra.
Finally, in welterweight division, Ricardo "El Lobby" Cabaña (144.2 lbs. and 1-0), from Buenos Aires, beat Ángel Bolatti (144.1 lbs. and 0-1), from Escobar, Buenos Aires, by a four round unanimous decision. The scorecard were: Javier Geido 40-36, Mirta Jara 40-36, and Néstor Savino 40-36.