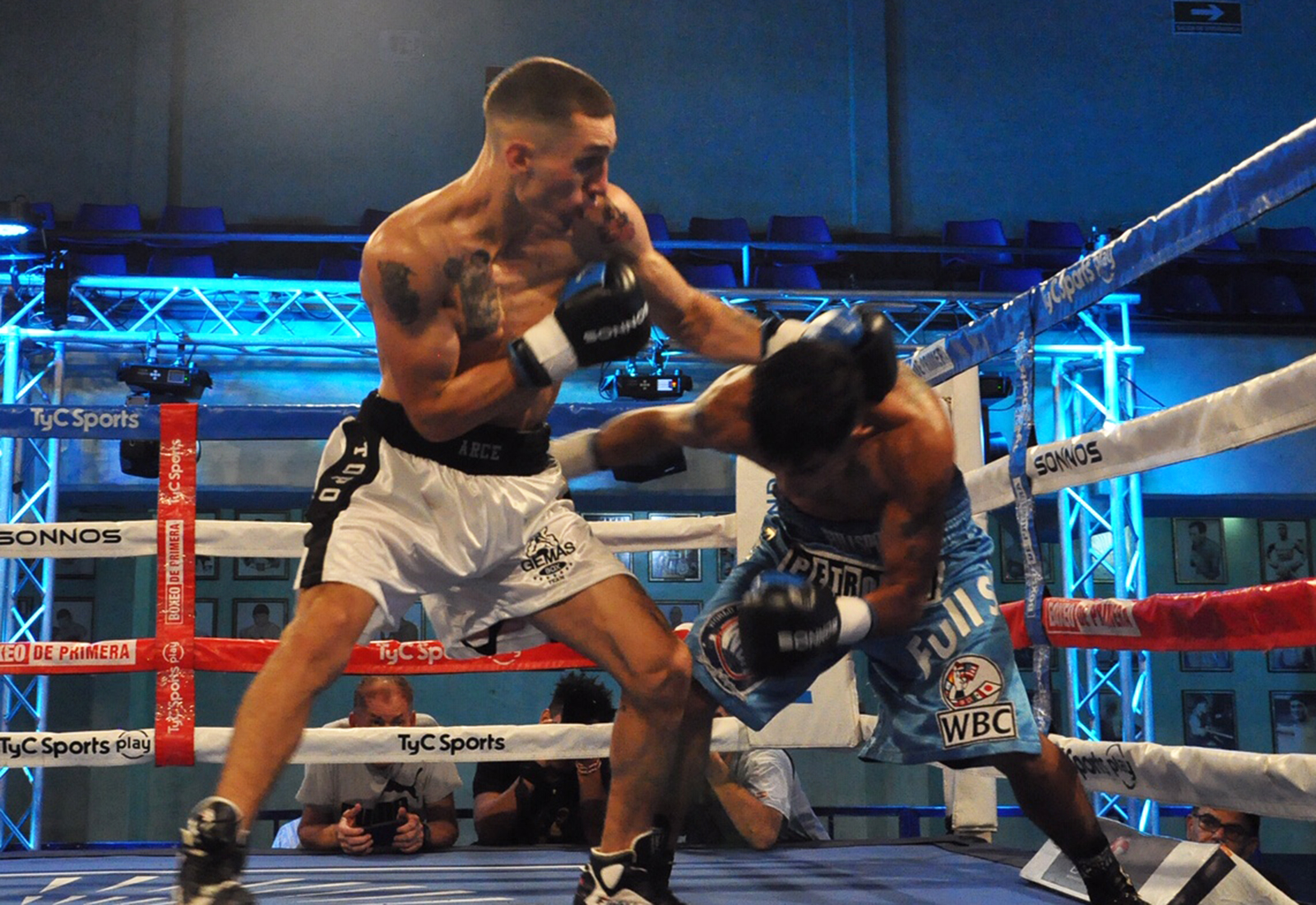 World Boxing Association (WBA) Fedebol featherweight champion, rising prospect Facundo "Topo" Arce, destroyed former Fedebol and Latino monarch, Claudio "La Serpiente" Echegaray, by a strong knock out in the fifth round. and defended for the first time his crown, at the main event of an exciting boxing night this Friday night at the Federación Argentina de Box (FAB), in Buenos Aires, Argentina, promoted by Argentina Boxing Promotions, of Mario Margossian.
The event took place with no fans by order of the Buenos Aires City Government and the Argentinean National Government, who determinated that massive public sport events can only take place without the assistance of an audience, due to the Coronavirus spread.
But on the ring, fireworks were all over the place. Arce, 24 years old, from Marcos Paz, Buenos Aires, # 4 of the Argentinean junior lightweight ranking, went out determined to do the job and suprised the experienced Echegaray, 30, from San Luis, # 4 of the Argentinean featherweight lists, former WBA Fedebol featherweight and World Boxing Council (WBC) Latino bantamweight and junior featherweight champion, who was unable to do anything. With less than two minutes of the fight, the champion combined his powerful left and right crosses to the face and sent Echegaray heavily to the canvas, almost falling off the ring through the ropes. After dominating the second and third round, in the fourth, "Topo" punished the challenger sending him down twice, first with a combination of right and left uppercut and strong cross to the chin and seconds later with a crosses of both hands to the cheeks. The difference of power, strengh, skills and stamina was evident. It was only a matter of time. And the rhythm set by the champion was simply too much for his opponent. With everything served on a tray, Arce went out in the fifth to finish him and sent Echegaray to a corner where he crushed him with a barriage of punches ending with a left hook to the liver and a cross to the chin, sending the damaged "Serpiente" down for the fourth time in the fight, and so the referee Rodolfo Stella took the count to ten, which generated the celebration of the winning corner.
With this result, Arce, who weighed 125.8 lbs., defended for the first time the title he conquered last December 27th when he destroyed former olympian Ignacio Perrín in less than one round in a rematch after their draw at this same venue, and moves on to 12 victories (6 KOs), 2 losses and 2 draws. Echegaray, 125.8 lbs., who came after last December 28th when he battled to a draw with world title challenger Emanuel Cusolito in Zárate, Buenos Aires, remains in 23 victories (11 KOs), 4 defeats and 2 draws.
In the co main event, former International Boxing Federation (IBF) junior bantamweight World champion, Débora "La Gurisa" Dionicius (115.7 lbs. and 30-2, 6 KOs), from Villaguay, Entre Ríos, dominated former Latino title challenger Aixa "Vaca Mala" Adema (116.1 lbs. and 3-4-4, 2 KOs), from Santa Rosa, La Pampa, by a wide unanimous decision ten rounds, and conquered the Argentinean bantamweight interim title. The scorecard were: Mirta Jara 98-92, Edgardo Codutti 96-94, and Néstor Savino 97-93.
Also, in junior lightweight division, heavy puncher Damián "Chiva" Rojas (129.8 lbs. and 12-2, 10 KOs), from Cutral Có, Neuquén, crushed José "El Cordero" García (6-9, 3 KOs), from Posadas, Misiones, by a strong technical knock out in the fourth round, after sending him down twice in that chapter and making the referee Lucas Katalinich stop the cout.
Finally, in junior middleweight division, Cristian "Azteca" Ayala (153.4 lbs. and 3-0-1, 1 KO), from Posadas, Misiones, via San Miguel, Buenos Aires, and Leandro "Huracán" Fonseca (147.4 lbs. and 1-0-1, 1 KO), from Buenos Aires, fought to a draw, by majority decision after four rounds. The scorecard were: Javier Geido 39-37 for Fonseca, Mirta Jara 38½-38½, y Néstor Savino 38-38.