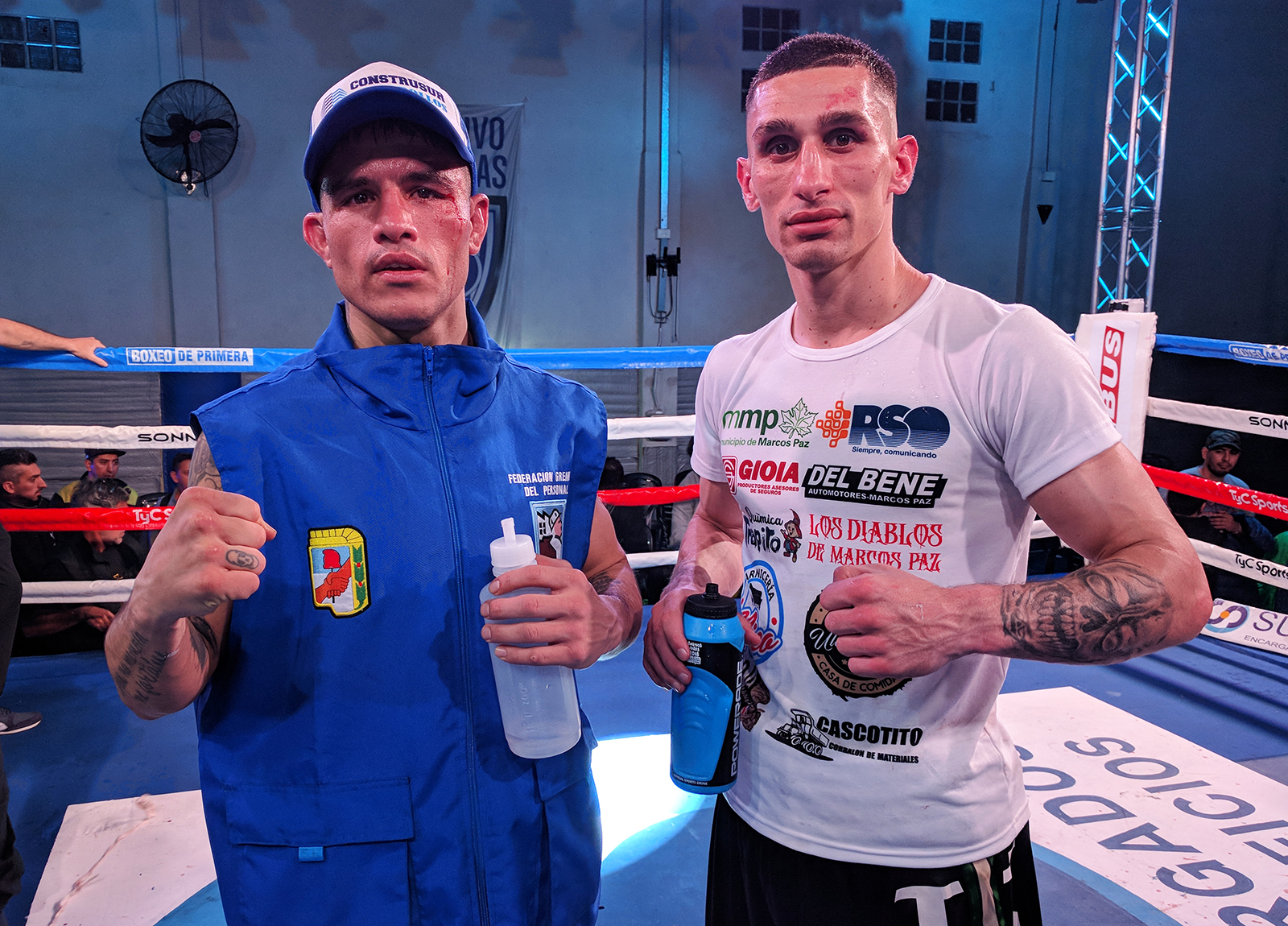 Rising prospect Facundo "Topo" Arce and former olympian Ignacio "Nacho" Perrín, fouth to a draw by a majority decision after ten rounds, fot the vacant World Boxing Association (WBA) Fedebol featherweight title, at the main event of an exciting boxing night last Friday night at the Club Sportivo Barracas, in Buenos Aires, Argentina, promoted by Argentina Boxing Promotions, of Mario Margossian.
In an action packed exciting battle, Arce, 23 years old, from Paz, Buenos Aires, #6 of the Argentinean lightweight ranking, made great use of his stronger power and the depth of his blows against Perrín, 34, from Buenos Aires, former Olympic representative in Rio de Janeiro 2016, as well as former captain of the Argentinean national amateur team, current #5 of the Argentinean featherweight ranking, who answered with his well known technique, skills, precision and his ring control. During the first part of the changeable fight, "Topo" connected his powerful left jabs followed by strong right uppercut and crosses to the head. Nevertheless, "Nacho" changed his guard, and with intelligent movements he found the best angles to impact his hooks to the body and right crosses and uppercut to the jaw. As the rounds went by, the alternatives changed from one side to the other, with both fighters hitting and receiving. But on the last three chapters, Perrín dominated the path and combined his hooks with huge crosses. And in the explosive end, they traded strong blows all over the head and body of each other, that generated the recognition of the audience that packed the venue.
The scorecards expressed the draw, as they were announced: Edgardo Codutt 98-92 for Perrín, Mirta Jara 95-95, and Carlos Azzinnaro 95-95.
With this result, Arce, who weighed 126 lbs., who was coming from a great strike of nine victories and one draw ending last July 26th when he destroyed Martín Rocha by technical knock out in the sixth round, moves on to 10 victories (4 KOs), 2 losses and 2 draws. Perrín, 125.8 lbs., with two victories in Mexico, one over Lucas Montesino, and came after a controversial defeat against Puerto Rican Félix Caraballo by decision on July 13th in Mayagüez, Puerto Rico, moves 6 victories (1 KO), 2 defeats and 1 draw.
In the co main event, in welterweight division, former Argentinean and Latino champion, world title challenger Israel "Cachito" Pérez (138.6 lbs. and 28-3-1, 17 KOs), from San Vicente, Buenos Aires, destroyed Diego Neira (142.1 lbs. and 11-9-1, 2 KOs), from San Miguel de Tucumán, by a strong technical knock out in the third round, after Pérez went down in the end of the second chapter with no consequences, but finishing his opponent in the third with a powerfull right cross to Neira's temple, who ended on the canvas making referee Hernán Guajardo stop the bout.
Also, in welterweight division, Yoel "El Chacal" Peralta (144.6 lbs. and 2-1, 1 KO), from Del Viso, Buenos Aires, stopped Claudio "Martillo" Ramírez (146.2 lbs. and 0-3), from San Fernando del Valle de Catamarca, by a strong technical knock out in the third round, after generating a standing count in the second round and making his opponent's corner throw the towel in the third.
Finally, in flyweight division, Nicolás "Demonio" Muguruza (111 lbs. and 2-0), from Bragado, Buenos Aires, dominated debutant Sergio "Motorcito" Garvizu (111.4 lbs. and 0-1), from Salta, by a four round wide unanimous decision, and after generating a standing count in the third chapter. The scorecards were: Mirta Jara 40-35, Hugo Vainesman 40-35, and Carlos Azzinnaro 40-35.