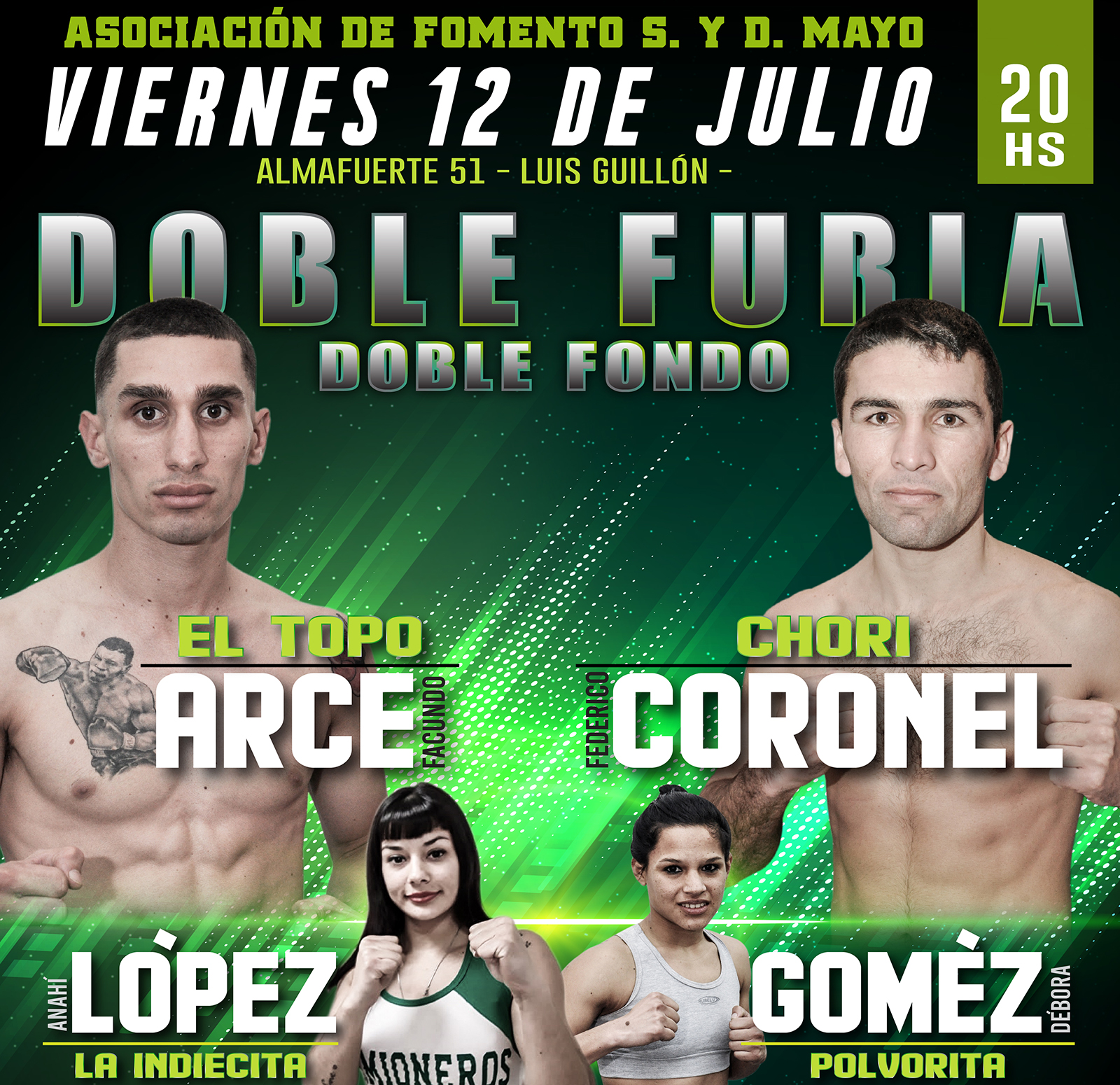 Rising prospect Facundo "Topo" Arce will face unbeaten prospect Federico "Chori" Coronel, in a matchup scheduled to ten rounds in junior lightweight division, at the main event of an exciting boxing night this Friday night at the Asociación de Fomento Social y Deportiva Mayo, in Luis Guillón, Buenos Aires, Argentina, promoted by Argentina Boxing Promotions, of Mario Margossian, which will be televised live on TyC Sports at 10 pm., for Argentina and the whole American continent.
In what is expected to be an action packed fight, Arce (9-2-1, 3 KOs), 23 years old, from Marcos Paz, Buenos Aires, current # 8 of the Argentinean lightweight ranking, comes in his best stage after beating eight of his last nine opponents -and the other one being a draw-, ending last May 4th when he took out Félix Orozco by a technical knock out in the third round, will try to extend his record. Now he will clash against the unbeaten Coronel (9-0-1, 5 KOs), 27, from Urdampilleta, Buenos Aires, who has defeated every rival, ending last April 12th against Delmiro Bordón by a unanimous decision, and is ready for his most important result.
In the co main event, former Argentinean flyweight champion, unbeaten prospect Anahí "La Indiecita" López (13-0-1, 1 KO), faces Débora "Polvorita" Gómez (5-3-1), for the vacants Argentinean and South American flyweight titles, in a highly expected rematch, after López defeated Gómez by a split decision on July 23rd, 2016, when their careers were beginning.
López, 24, from Junín, Buenos Aires, is the current # 3 of the International Boxing Federation (IBF) flyweight world ranking and # 1 of the national flyweight lists, and comes after beating Virginia Cárcamo by unanimous decision, to recover her national belt and add the South American one. But Gómez, 24, from José León Suárez, Buenos Aires, # 4 of the Argentinean flyweight ranking, will try to get her best victory and her first belts.
Also, in welterweight division, Emmanuel "GES" Schramm (2-0, 1 KO), from Morón, Buenos Aires, takes on Víctor Jaimes (1-3), form Nogoyá, Entre Ríos, in a bout scheduled to four rounds.
In flyweight division, debutant Nicolás Muguruza, from Bragado, Buenos Aires, faces Paraguayan Lucas "Dibu" Rojas (1-1), from Asunción, in a bout scheduled to four rounds.
In junior lightweight division, debutant Alexis Broggi, from Bragado, Buenos Aires, takes on Agustín Peralta (0-1), from San Miguel de Tucumán, in a bout scheduled to four rounds.
Finally, in welterweight division, debutant Ricardo Cabaña, from Buenos Aires, faces debutant Kevin Lagos, from Telén, La Pampa, in a bout scheduled to four rounds.