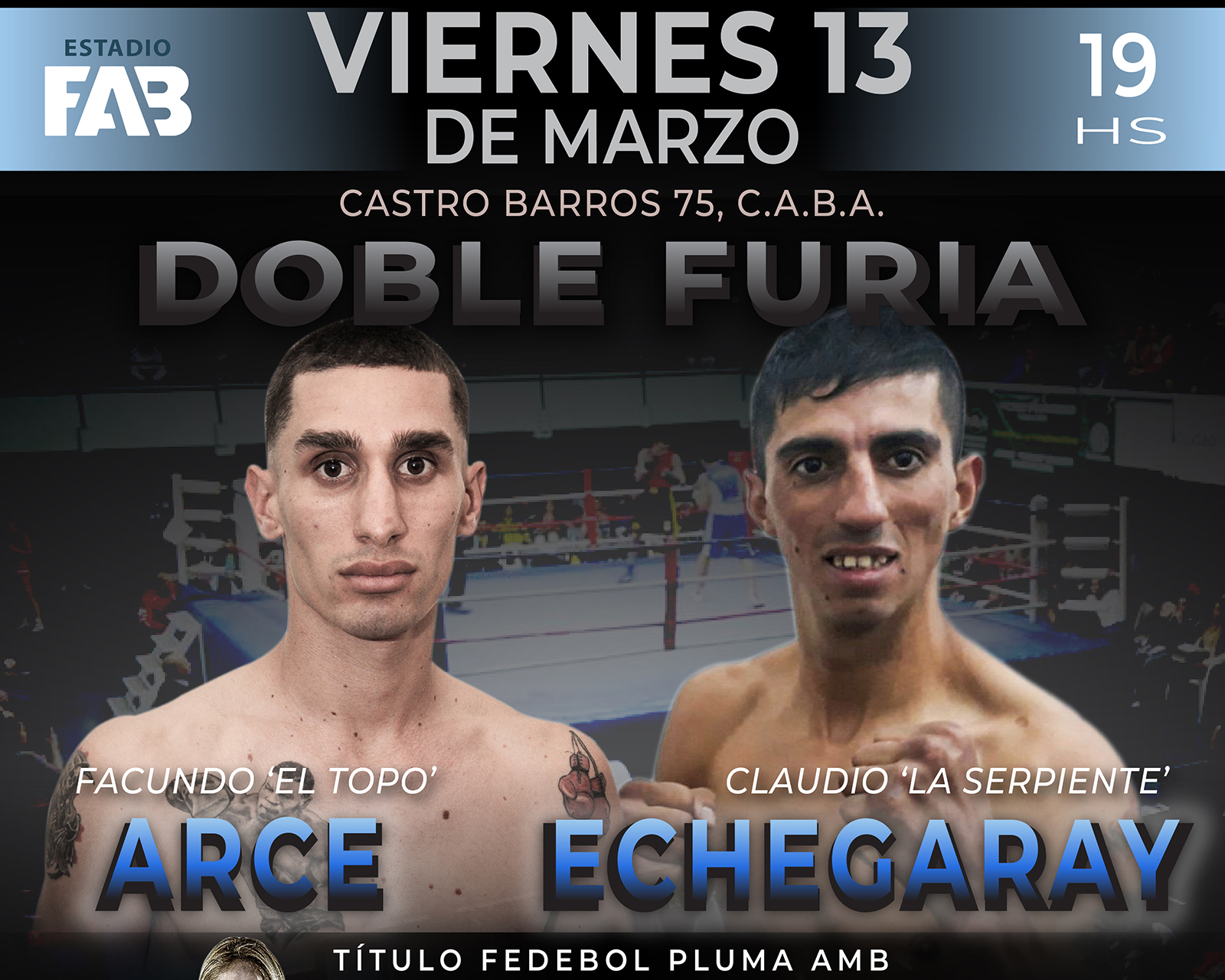 World Boxing Association (WBA) Fedebol featherweight champion, rising prospect Facundo "Topo" Arce, will face former Fedebol and Latino monarch, Claudio "La Serpiente" Echegaray, trying to defend for the first time his crown, at the main event of an exciting boxing night this Friday night at the Federación Argentina de Box (FAB), in Buenos Aires, Argentina, promoted by Argentina Boxing Promotions, of Mario Margossian, which will be televised live on TyC Sports at 10 pm., for Argentina and the whole American continent.
In what is expected to be an explosive clash, Arce (11-2-2, 5 KOs), 24 years old, from Marcos Paz, Buenos Aires, # 4 of the Argentinean junior lightweight ranking, who comes from a great strike of ten victories -including over Elías Paredes and Martín Rocha- and two draws will try to shine and defend for the first time the title he conquered last December 27th when he destroyed former olympian Ignacio Perrín in less than one round in a rematch after their draw at this same venue. Now he will face the experienced Echegaray (23-3-2, 11 KOs), 30, from San Luis, # 4 of the Argentinean featherweight lists, former WBA Fedebol featherweight and World Boxing Council (WBC) Latino bantamweight and junior featherweight champion, who has defeated names such as Elías Gaspar and Diego Santillán, only being stopped by world title challenger Javier Chacón and losing against Kevin Acevedo, comes after last December 28th when he battled to a draw with world title challenger Emanuel Cusolito in Zárate, Buenos Aires, and wants to regain his crown.
In the co main event, former International Boxing Federation (IBF) junior bantamweight World champion, Débora "La Gurisa" Dionicius (29-2, 6 KOs), from Villaguay, Entre Ríos, faces former Latino title challenger Aixa "Vaca Mala" Adema (3-3-4, 2 KOs), from Santa Rosa, La Pampa, trying to conquer the Argentinean bantamweight interim title.
Also, in junior lightweight division, heavy puncher Damián "Chiva" Rojas (11-2, 9 KOs), from Cutral Có, Neuquén, takes on José "El Cordero" García (6-8, 3 KOs), from Posadas, Misiones, in a bout scheduled to six rounds.
In welterweight division, Cristian "Azteca" Ayala (3-0, 1 KO), from Posadas, Misiones, via San Miguel, Buenos Aires, faces Leandro Fonseca (1-0, 1 KO), from Buenos Aires, in a bout scheduled to four rounds.
Finally, in junior welterweight division, Dorian "El Atrevido" Maidana (5-0, 3 KOs), from Villa Albertina, Buenos Aires, takes on an opponent to be determined, in a bout scheduled to four rounds.