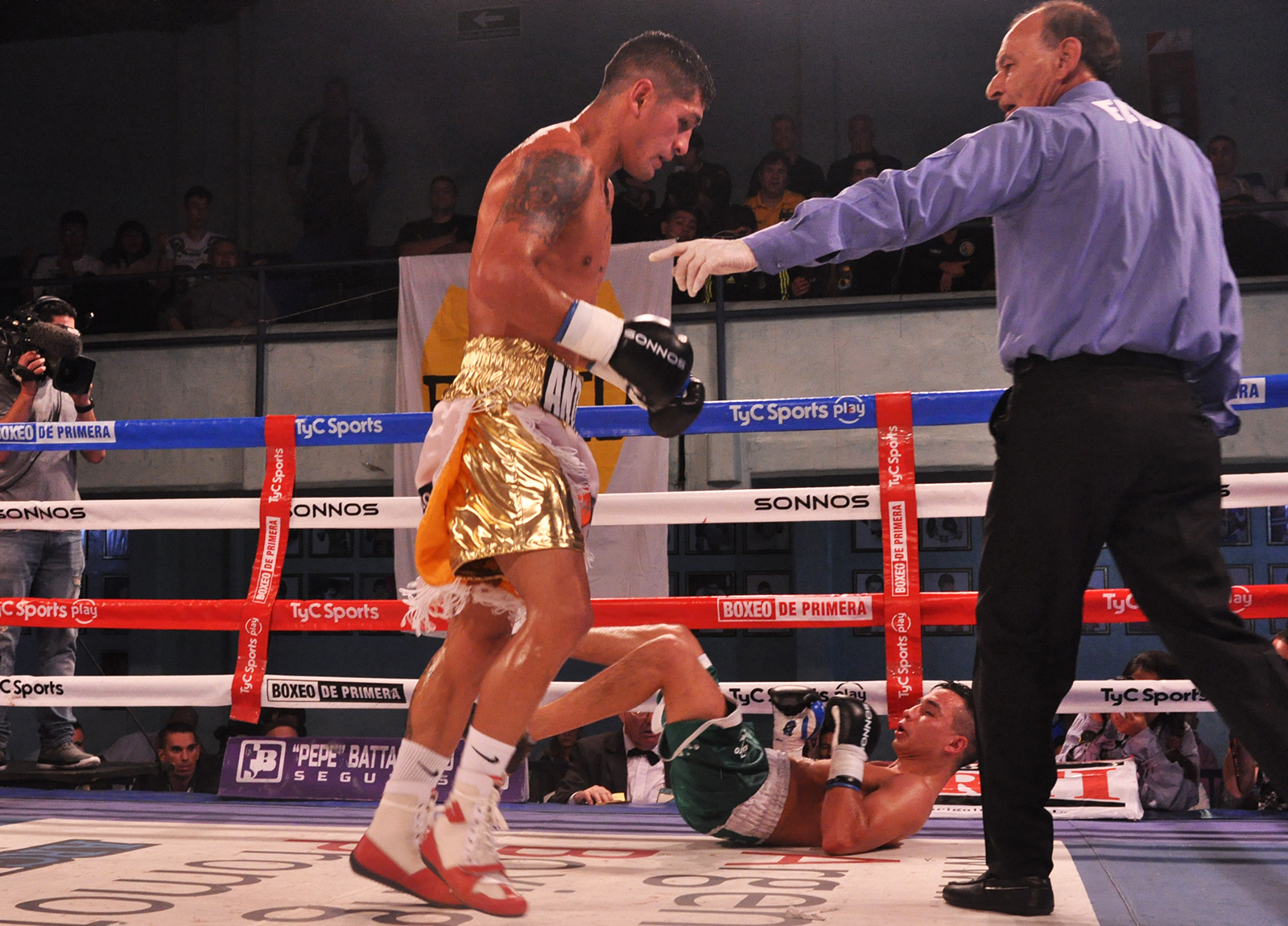 César "El Gato" Antín stopped current World Boxing Organization (WBO) Latino super featherweight champion, Pablo "Pimienta" Ojeda, with a strong technical knock out in the eighth round, and conquered the vacant World Boxing Council (WBC) Latino super featherweight title, at the main event of an exciting boxing night last Saturday night at the Argentinean Boxing Federation (FAB) stadium, in Buenos Aires, Argentina, promoted by Argentina Boxing Promotions, of Mario Margossian.
In an action packed clash, coming as the underdog, Antín, from El Bolsón, Río Negro, showed intelligence, decision and precision of his blows to put down prospect Ojeda, from Uriburu, La Pampa, #15 WBO, #31 WBC, and #2 of the Argentinean super featherweight ranking, who was unable to secure the win. Afther a better beggining by Ojeda, Antín slowly made the bout even. With both fighters dropping powerful punches on each other, in the eighth chapter "El Gato" anticipated his opponent and connected two stong left crosses to his cheeks, and sent him to the canvas. After another attack in wich he had him wobbling, the 26 year old Antín finished the business with a barriage of right and left hand crosses to the face of Ojeda who showed no answer, making the referee Rodolfo Stella rule the end.
With this result, Antín, who weighed 58,900 kg., who had already defeated Miguel Acosta and Rubén López, conquers his firs title and moves on to 18 victories (8 KOs) and 2 losses. Ojeda, also 58,900 kg., who had previously defeated Sebastián Aguirre, Leonardo Fernández, Daniel Brizuela and Horacio Cabral, among others, lost a controversial decision against Evgeny Chuprakov in Rusia, and was comming of a third round success over Ezequiel Sayal Lozano to obtain his WBO Latino title, remains in 16 victories (11 KOs), 5 defeats and 1 draw.
In an interesting co main event, super welterweight prospect, Lucas "El Tornado" Bastida (69,800 kg. and 9-1, 4 KOs), from Mar del Plata, Buenos Aires, defeated Cristian Zárate (69,350 kg. and 9-3, 2 KOs), form La Pampa, by a six round wide unanimous decision, and after sending him to the canvas in the second chapter. The scorecard were: Ramón Cerdán 59-54, Luis Doffi 59-54½, and Hugo Vainesman 58½-56.
In an explosive lightweight fight, prospect Facundo "Topo" Arce (60,800 kg. and 9-2-1, 3 KOs), from Marcos Paz, Buenos Aires, destroyed Félix Orozco (62 kg. and 2-4-1, 1 KO), form La Pampa, by a strong technical knock out in the third round.
In other results, in welterwieght division, Matías Díaz (66,650 kg. and 5-4-1), from Lobos, Buenos Aires, surprised Daniel "Cainchi" Aquino (65,850 kg. and 18-6, 13 KOs), from Paraná, Entre Ríos, by a six round majority decision. The scorecard were: Ramón Cerdán 57-57, Jorge Basile 59-56½, and Hugo Vainesman 59½-57.
Finally, in junior welterwieght division, Facundo Gómez (63 kg. and 1-0), from Buenos Aires, defeated Jonathan Quiroga (63,200 kg. and 0-1), from Buenos Aires, by a four round unanimous decision. The scorecard were: Jorge Basile 40-36, Luis Doffi 39-37, and Hugo Vainesman 40-36.