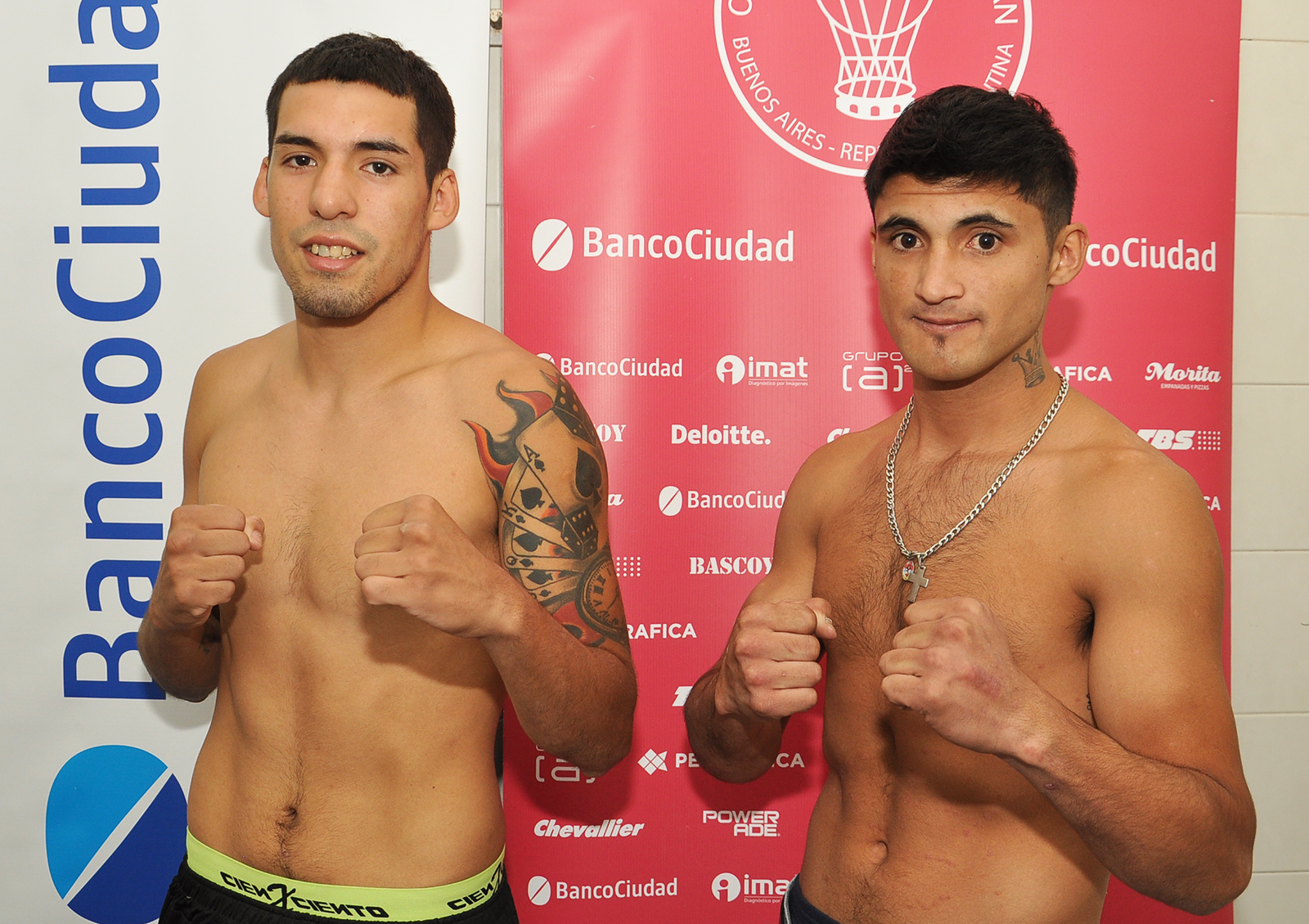 Unbeaten rising star Nicolás "El Elegante" Andino will face tough Daniel "El Zorrito" Córdoba, trying to conquer the Argentinean super lightweight vacant title, at the main event of an exciting boxing night this Friday night at the Club Atlético Huracán, in Buenos Aires, Argentina, promoted by Argentina Boxing Promotions, of Mario Margossian, which will be televised live on TyC Sports at 10 pm., for Argentina and the whole American continent.
In a highly expected clash, the skilful Andino (13-0, 2 KOs), 24 years old, from Villa Caraza, Buenos Aires, current # 5 of the Argentinean junior welterweight ranking, who was defeated every single opponent including Claudio Daneff, Antonio Santillán, Diego Tejerina, Jonathan Arena, Sebastián Chaves, Marcelo Mesa, comes after last January 17th dominating Julio Ruiz by unanimous decision in Mar del Plata, Buenos Aires, to his first title shot. Now he will take on the experienced Córdoba (11-6-0-2 sd, 2 KOs), 25, from Tres Arroyos, Buenos Aires, # 5 of the Argentinean lightweight ranking, who has battled against some of the best in the country such us Hugo Santillán, Javier Herrera, Héctor Sarmiento, Javier Clavero and Dominacan Michel Rivera, and beat names like Martín Ruiz, Carlos Santana, Germán Benítez and Elías Haedo, and comes after December 13th losing against Russian Vage Sarukhanyan on points in Moscow, Russia.
On Thursday afternoon, both fighters made the weight on the scales, leaving everything ready for their bout. Andino weighed 139 lbs., and Córdoba weighed 138 lbs.
In the co main event, Yamila Abellaneda (8-4, 3 KOs), from Pocitos, San Juan, via Buenos Aires, faces former Argentinean and World Boxing Association (WBA) World title challenger Pamela "Yarará" Benavidez (10-10-3, 2 KOs), from Resistencia, Chaco, trying to conquer the Argentinean lightweight vacant title.
Abellaneda weighed 134.3 lbs., and Benavidez weighed 134.8 lbs.
Also, in an expected rematch in cruiserweight division, Federico "Pumba" Grandone (4-0-1, 2 KOs), from Buenos Aires, takes on Gustavo "El Volcán" Schmitt (5-10-1, 1 KO), from Florencio Varela, BuenosAires, in a bout scheduled to six rounds, after last September 21st they battled to a split decision draw at this same venue.
Grandone weighed 199.6 lbs., and Schmitt weighed 197 lbs.
In lightweight division, Jesús "Chechu" Daneff (7-3-2, 3 KOs), from Cañuelas, Buenos Aires, faces Sergio "Coco" Quintana (3-3), from Florencio Varela, Buenos Aires, in a bout scheduled to four rounds.
Daneff weighed 134.7 lbs., and Quintana weighed 136.5 lbs.
Finally, in welterweight division, Yoel "El Chacal" Peralta (3-1, 1 KO), from Del Viso, Buenos Aires, takes on Dante Arce (0-0-1), from Merlo, Buenos Aires, in a bout scheduled to four rounds.
Peralta weighed 146.8 lbs., and Arce weighed 145.9 lbs.