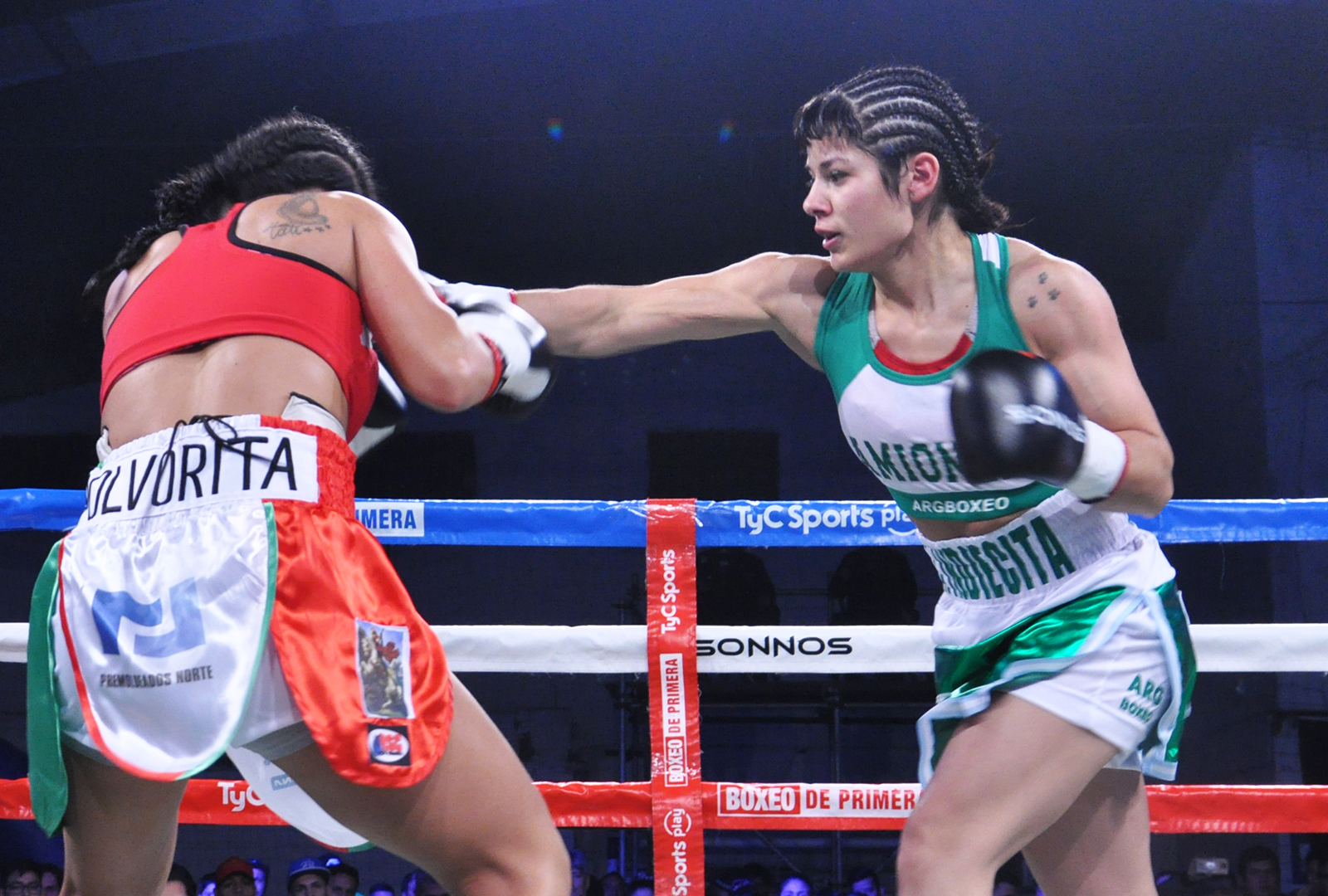 Rising star and former Argentinean flyweight champion, unbeaten prospect Anahí "La Indiecita" López, defeated tough Débora "Polvorita" Gómez, by a wide unanimous decision after ten rounds, and conquered the vacants Argentinean and South American flyweight titles, in a highly expected rematch, at the main event of an exciting boxing night last Friday night at the Asociación de Fomento Social y Deportiva Mayo, in Luis Guillón, Buenos Aires, Argentina, promoted by Argentina Boxing Promotions, of Mario Margossian.
Making great use of her fast movements and skillful technique, López, 24 years old, from Junín, Buenos Aires, current # 3 of the International Boxing Federation (IBF) flyweight world ranking and # 1 of the national flyweight lists, dominated from bell to bell the hard Gómez, 24, from José León Suárez, Buenos Aires, # 4 of the Argentinean flyweight ranking, who was unable to do anything. With her quick movements, the undefeated always marked the distances, anticipated each clash and connected her left jabs followed by her right crosses and uppercuts to the head. Dispite her opponent went forward, she never found her. And although at some times Gómez tried to make the fight slightly dirty, with some rather reckless headbuts, "La Indiecita" never lost control. She landed strong jabs and powerful right swings and crosses to the jaw. As the rounds went by, she clearly extended the advantages. And in that way, she repeated what happened on July 23, 2016, when she won a split decision after four chapters in Junín, Buenos Aires, although this time with greater difference in order to conquer the two crowns and unleash the celebration of the entire crowd that packed the venue.
The scorecard expressed the difference shown on the ring, as they were announced: Carlos Azzinnaro 98-92½, Hugo Vainesman 98-94½, and Héctor Miguel 99-92½, all in favour of López.
With this result, López, who weighed 110 lbs., who was coming after beating Virginia Cárcamo by unanimous decision, regains the Argentinean belt and conquers the South American one, and moves on to 14 victories (1 KO) and 1 draw. Gómez, 111.6 lbs., remains in 5 victories, 4 defeats and 1 draw.
In the co main event, in welterweight division, Emmanuel "GES" Schramm (146.2 lbs. and 3-0, 2 KOs), from Morón, Buenos Aires, destroyed Víctor Jaimes (147 lbs. and 1-4), form Nogoyá, Entre Ríos, by a strong technical knock out in the fourth round, after generating a standing count in that chapter and seconds later when he was battering down his opponent, the referee Hernán Guajardo stopped the bout.
Also, in super flyweight division, debutant Nicolás "Demonio" Muguruza (112.2 lbs. and 1-0), from Bragado, Buenos Aires, defeated Paraguayan Lucas "Dibu" Rojas (114.3 lbs. and 1-2), from Asunción, by a four round unanimous decision. The scorecard were: Héctor Miguel 40-37, Edgardo Codutti 39½-37½, and Carlos Azzinnaro 39-38½.
In junior lightweight division, debutant Alexis "Picante" Broggi (129.5 lbs. and 1-0), from Bragado, Buenos Aires, beat Agustín "La Cobrita" Peralta (128.9 lbs. and 0-2), from San Miguel de Tucumán, by a four round split decision. The scorecard were: Carlos Azzinnaro 39-38, and Edgardo Codutti 39½-38, both for Broggi, and Hugo Vainesman 39-38 for Peralta.
Finally, the in welterweight division bout between debutant Ricardo "El Lobby" Cabaña (144.6 lbs.), from Buenos Aires, against debutant Kevin Lagos (144.6 lbs.), from Telén, La Pampa, scheduled to four rounds, was cancelled because Lagos felt sick minutes before stepping on the ring.