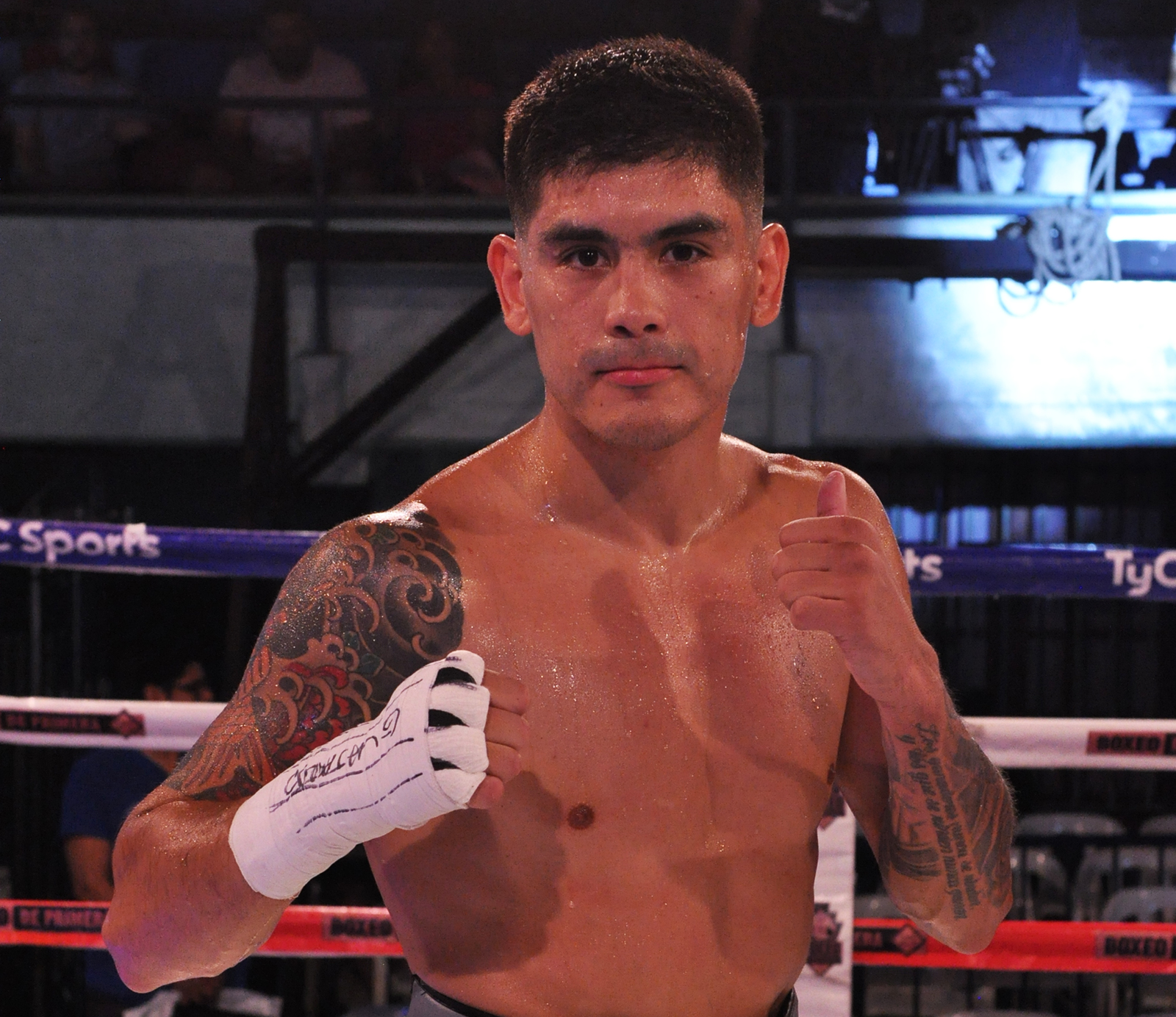 South American welterweight champion, prospect Adrián "Chucky" Verón, annihilated Manuel "Junior" Liendo, by a vicious technical knock out in the third round, and defended for the first time his title, at the main event of an exciting boxing night last Saturday night at the Gimnasio Municipal Mario Lobos, in Los Antiguos, Santa Cruz, Argentina, promoted by Argentina Boxing Promotions, of Mario Margossian.
In what was expected to be an explosive clash, Verón, from Río Gallegos, Santa Cruz, two time former World Boxing Organizatión (WBO) Latino and World Boxing Council (WBC) Latino welterweight champion, as well as former South American junior middleweight monarch, currect #5 of the Argentinean welterweight ranking, dominated from the first bell Liendo, from Río Cuarto, Córdoba, who ended suffering his power. After having vast control of the first two chapters, in the third the 30 year old champion stepped on the accelerator. With a strong left cross he put Liendo on the canvas. Still visibly hurt, the challenger got up, but only delaying the inevitable. Decided, "Chucky" went for the definition and connected a powerful left cross to Liendo's mouth, sending him down once again, but spectaculary, making the referee Néstor Burgos indicate the end of the bout.
With this result, Verón, who weighed 66,600 kg.,defended for the first time the South American title he conquered last December 22nd, knowing out Leandro Rojo in the second chapter, to move on to 24 victories (16 KOs) and 3 losses. Liendo, 66,650 kg., remains in 12 victories (3 KOs), 6 defeats and 1 no contest.
In the co main event, in junior bantamweight division, Micaela "La Princesita" Luján (51,600 kg. and 8-1, 3 KOs) surpriesed former world champion Débora "La Gurisa" Dionicius (51,300 kg. and 28-2, 6 KOs), by an eight round unanimous decision. The scorecard were: Oscar Sandín 78½-74, Ramón Cuello 79-75, and Osvaldo Romero 79-75½.
With determination, Luján, from Villa Mercedes, San Luis, overcame the well known skills of Dionicius, from Villaguay, Entre Ríos, former International Boxing Federation (IBF) junior bantamweight world champion -with thirteen defenses- and current #1 of the IBF world ranking, and who even received twice the award of Female Boxer of the Year by the IBF.
In other results, in junior middleweight division, Denis "Foquito" Andrade (66,900 kg. and 4-3, 2 KOs), from Río Gallegos, Santa Cruz, dominated Nicolás Falabella (68 kg. and 1-2), from Chacabuco, Buenos Aires, by a four round majority decision. The scorecard were: Ramón Cuello 38-38, and Osvaldo Romero 40-35, and Oscar Sandín 39½-38.
Finally, in junior welterweight division, Ezequiel Mansilla (65,600 kg. and 1-1, 1 KO), from Comodoro Rivadavia, Chubut, took out Samuel Rey (65 kg. and 1-1), from Viedma, Río Negro, by technical knock out in the second round, afther sending him down three times in the second chapter, reason why referee Néstor Burgos stopped the fight.