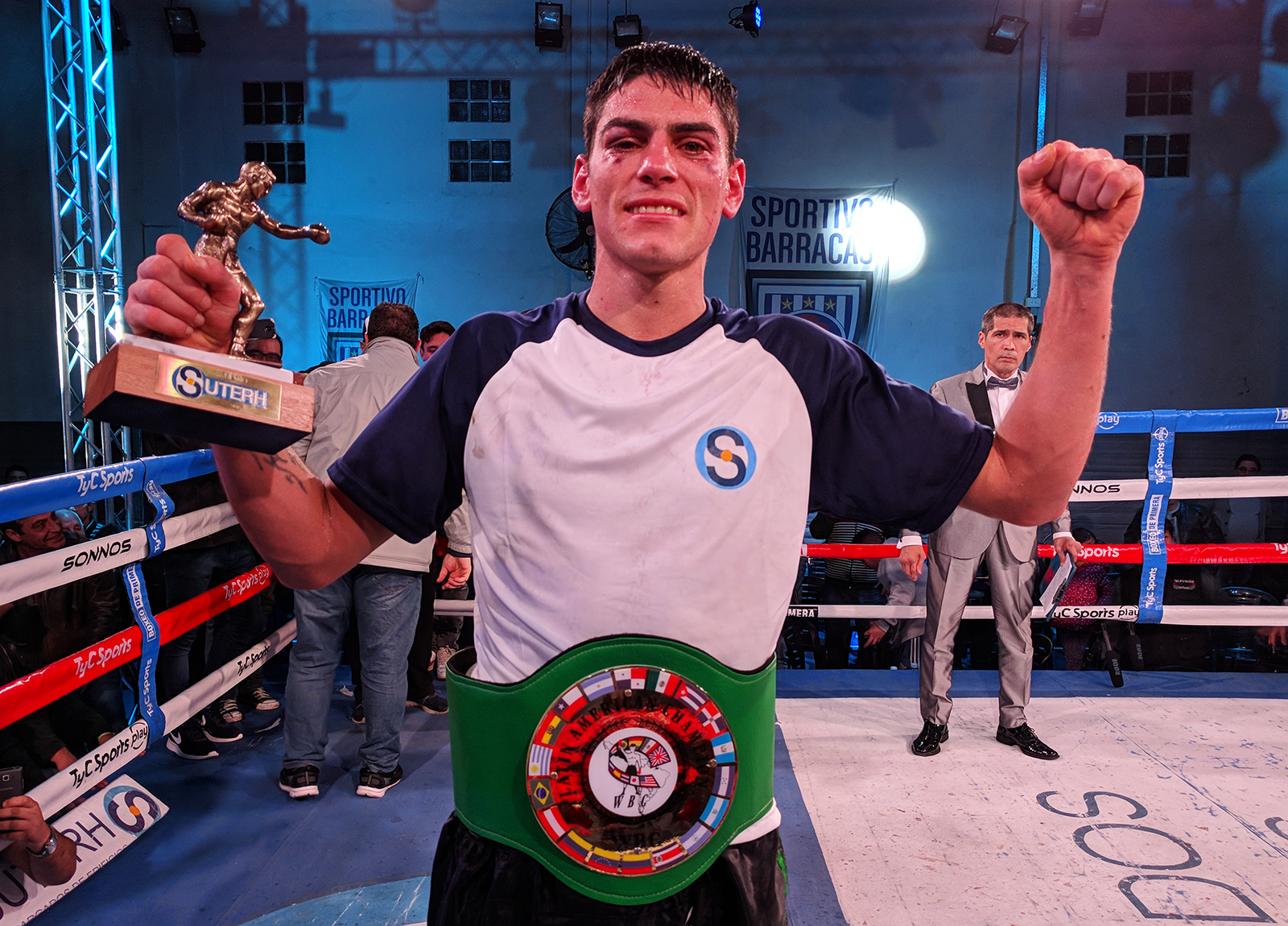 Rising prospect Claudio "Chaíto" Daneff defeated World Boxing Council (WBC) Latino junior lightweight champion, César "El Gato" Antín, by a wide unanimous decision after ten rounds, and conquered the vacant WBC Latino lightweight title, at the main event of an exciting boxing night last Friday night at the Club Sportivo Barracas, in Buenos Aires, Argentina, promoted by Argentina Boxing Promotions, of Mario Margossian.
In what is expected to be an action packed fight, the young Daneff, 23 years old, from Cañuelas, Buenos Aires, # 9 of the Argentinean lightweight ranking, considered a serious Argentinean prospect, dominated from bell to bell Antín, 26, from El Bolsón, Río Negro, # 3 of the Argentinean junior lightweight ranking, who was unable to do anything at all. With his long reach and height, the promising prospect controlled every moment of the fight. Due to a great shape, he made good use of his fast movements to take the initiative and connect strong and heavy blows, and at the same time elude every attempt of his opponent. Despite having injured his right hand at the end of the third round, "Chaíto" maintained control throughout the whole clash. More than once, he combined a barriage of punches in particular with his long jab, followed by powerfull left crosses and uppercuts to the head, together with his hooks to the body, and had Antín wobbling. As the rounds went on, differences grew bigger and bigger. He literally was giving his experienced opponent a boxing lesson. And when the final bell rang, the crowded stadium cheered him for conquering his first and well diserved crown.
The scorecard expressed the difference shown on the ring, as they were announced: Javier Geido 99-91, Carlos Azzinnaro 97-93, and Mirta Jara 98-92, all in favour of Daneff.
With this result, Daneff, who weighed 134 lbs., who had knocked out his last five opponents in a row, ending last March 23rd when he destroyed Diego Tejerina in the third round, conquers his first title and moves on to 9 victories (6 KOs), 1 loss and 1 draw. Antín, 134.2 lbs., who was coming from his gratest victory when last May 4th he took out world ranked Pablo Ojeda by a technical knock out in the eighth round, remains in 18 victories (8 KOs) and 3 defeats.
In the co main event, in junior lightweight division, heavy puncher Damián "Chiva" Rojas (129.1 lbs. and 9-1, 8 KOs), from Cutral Có, Neuquén, destroyed former South American and Latino champion, experienced Sergio "El Enigmático" Estrela (130 lbs. and 20-18-3, 11 KOs), from La Plata, Buenos Aires, by a strong technical knock out in the second round, after sending him down twice in that chapter and when he was putting him down again referee Carlos Gómez stopped the bout.
Also, in a rematch in lightweight division, Jesús "Chechu" Daneff (133.6 lbs. and 6-2-2, 3 KOs), from Cañuelas, Buenos Aires, crushed Jonatan "Johnny" Godoy (133.2 lbs. and 3-5), form Ensenada, Buenos Aires, by a strong technical knock out in the second round, after sending him down twice in that same chapter, and put the personal series 2-1 against him, after Godoy won the first clash on May 11th, 2018, and Daneff the second one on March 23rd, 2019.
Finally, in welterweight division, debutant Darío "Seco" Soto (146.9 lbs. and 1-0, 1 KO), from Rosario, Santa Fe, took out Héctor "El Muro" Paiva (145 lbs. and 0-3), from Escobar, Buenos Aires, by knock out in the fourth round, after sending him down in the first one and in the fourth.