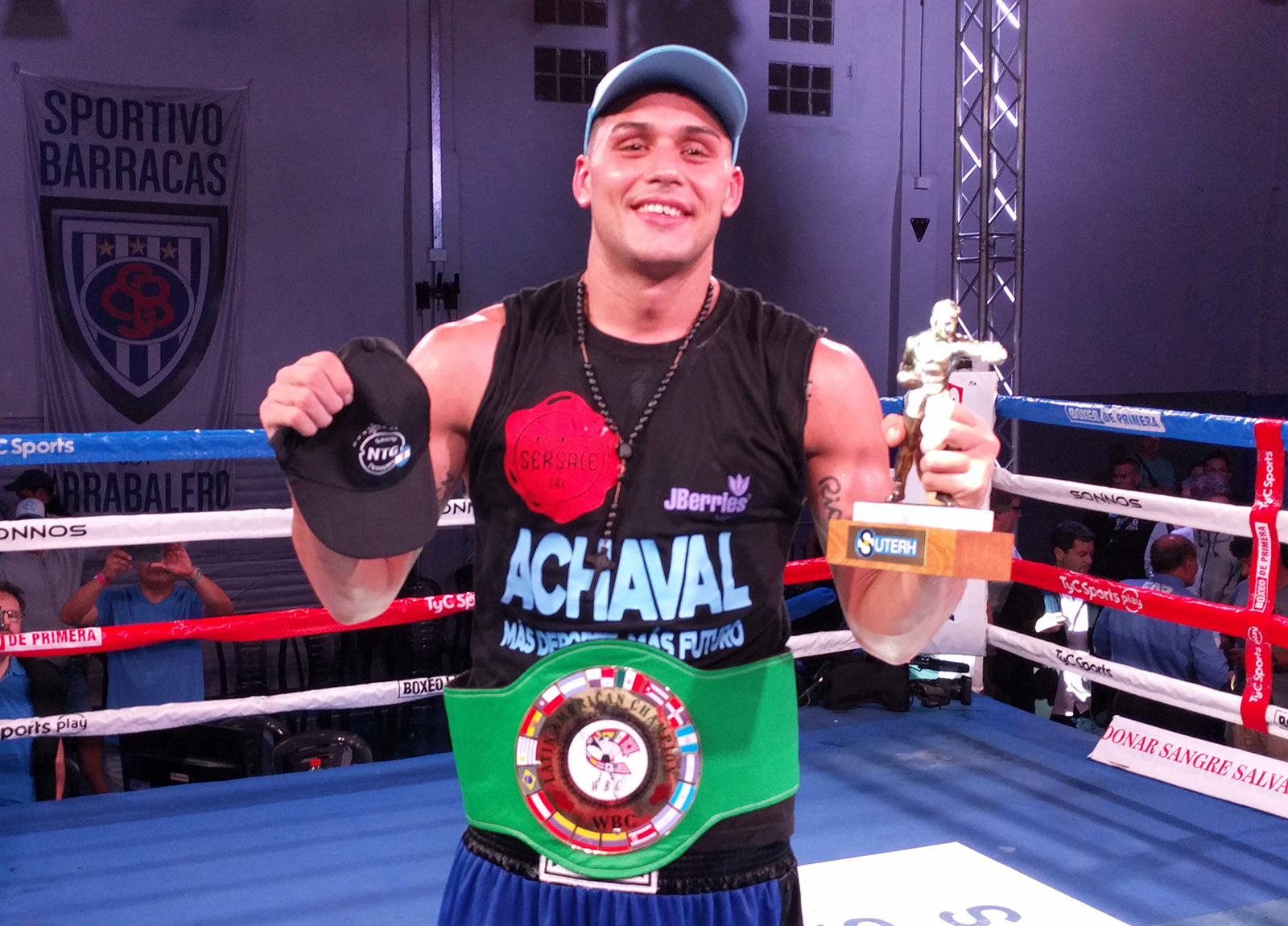 World Boxing Council (WBC) Latino cruiserweight champion, two-time olympian and unbeaten prospect Yamil Peralta, defeated former Latino champion Marcos "El Flaco" Aumada, by a wide unanimous decision after ten rounds, and defended for the first time his crown, in a highly expect rematch, at the main event of an exciting boxing night last Friday night at the Club Sportivo Barracas, in Buenos Aires, Argentina, promoted by Argentina Boxing Promotions.
In a hot clash between both of them, Peralta, 28 years old, from Del Viso, Buenos Aires, Argentinean representative in London 2012 -where he reached quarter finals- and Rio de Janeiro 2016, #1 of the Argentinean cruiserweight ranking and #32 WBC, dominated from bell to bell Aumada, 32, from San Luis, #4 of the Argentinean cruiserweight lists, who never found him at all. Making perfect use of his fast movements and the accuracy of his blows, the former olympian quickly connected his left jabs followed by right crosses and uppercuts to the jaw. As the rounds went by, the difference grew bigger. With confidence. Peralta unleashed powerful combinations to the head that stunned Aumada, showing the huge difference between each other's skills. With a perfect strategy, he left every single attempt from the challenger in the air, and connected his own furious punches to the head and body. But in the eighth round, "El Flaco" managed to impact a left cross to the cheek of Peralta who was falling and ended in the canvas. Immediately after that, the champion regained control and the challenger commited fauls, so the referee Rodolfo Stella deducted one point from him. After that, the fght turned messy, with clinchs from both sides, but always with the champion having anything under control. When the last bell was heard, the result was obvius. And in this way, Peralta repeated the result of last May 11th, when he dethroned him also by unanimous decision in Buenos Aires.
The scorecard expressed the difference shown on the ring, as they were announced: Javier Geido 97-91, Jorge Gorini 98-90, and Héctor Miguel 96-92, all in favour of Peralta.
With this result, Peralta, who weighed 199.5 lbs., defended for the first time the title he conquered last May 11th when he dethroned Aumada also by unanimous decision in Buenos Aires, and came after beating Esteban López by a wide unanimous decision on September 7th, moves on to 5 victories (1 KO), in the same number of fights. Aumada, 199.9 lbs., who had obtained this same belt knocking out Pablo Farías in the fifth round on August 2018, and defended it over Nahuel Martínez in one round and Carlos Nascimento in four, remains in 21 victories (16 KOs) and 8 losses.
In the co main event, in flyweight division, current Argentinean flyweight champion, Junior "El Demonio" Zárate (112 lbs. and 12-2, 4 KOs), from Formosa, dominated former Fedebol champion Mauro "Sapito" Liendro (108.1 lbs. and 5-6-0-1 nc, 4 KOs), from Salta, by a wide unanimous decision after six rounds, and after sending him to the canvas in the second. The scorecard were: Carlos Azzinnaro 60-53½, Jorge Gorini 60-53, and Héctor Miguel 59-54.
Also, in junior featherweight division, former International Boxing Federation (IBF) junior bantamweight World champion, Débora "La Gurisa" Dionicius (120.8 lbs. and 29-2, 6 KOs), from Villaguay, Entre Ríos, defeated Virginia "La Tigresa" Cárcamo (119.9 lbs. and 5-13-3), from San Carlos de Bariloche, Río Negro, by unanimous decision after six rounds. The scorecard were: Jorge Gorini 59½-56, Héctor Miguel 58½-56½, and Carlos Azzinnaro 58½-56.
In bantamweight division, Argentinean and South American bantamweight champion, Luciano "Yiyo" Baldor (117.5 lbs. and 15-2, 1 KO), from Burzaco, Buenos Aires, dominated Nicolás "Pitbull" Botelli (117.7 lbs. and 5-4, 1 KO), from Salta, by unanimous decision after six rounds. The scorecard were: Héctor Miguel 59-56, Jorge Gorini 58-57, and Carlos Azzinnaro 58½-57.
Finally, in junior welterweight division, Dorian "El Atrevido" Maidana (138.2 lbs. and 4-0, 2 KOs), from Villa Albertina, Buenos Aires, beat debutant Fernando "El Niño" Torres (137.1 lbs. and 0-1), from Pilar Junín, Buenos Aires, by a technical and unanimous decision after three rounds, due to an accidental clash of heads that caused a deep cut in Torres. The scorecard were: Héctor Miguel 29½-28, Carlos Azzinnaro 29½-28½, and Jorge Gorini 30-28.