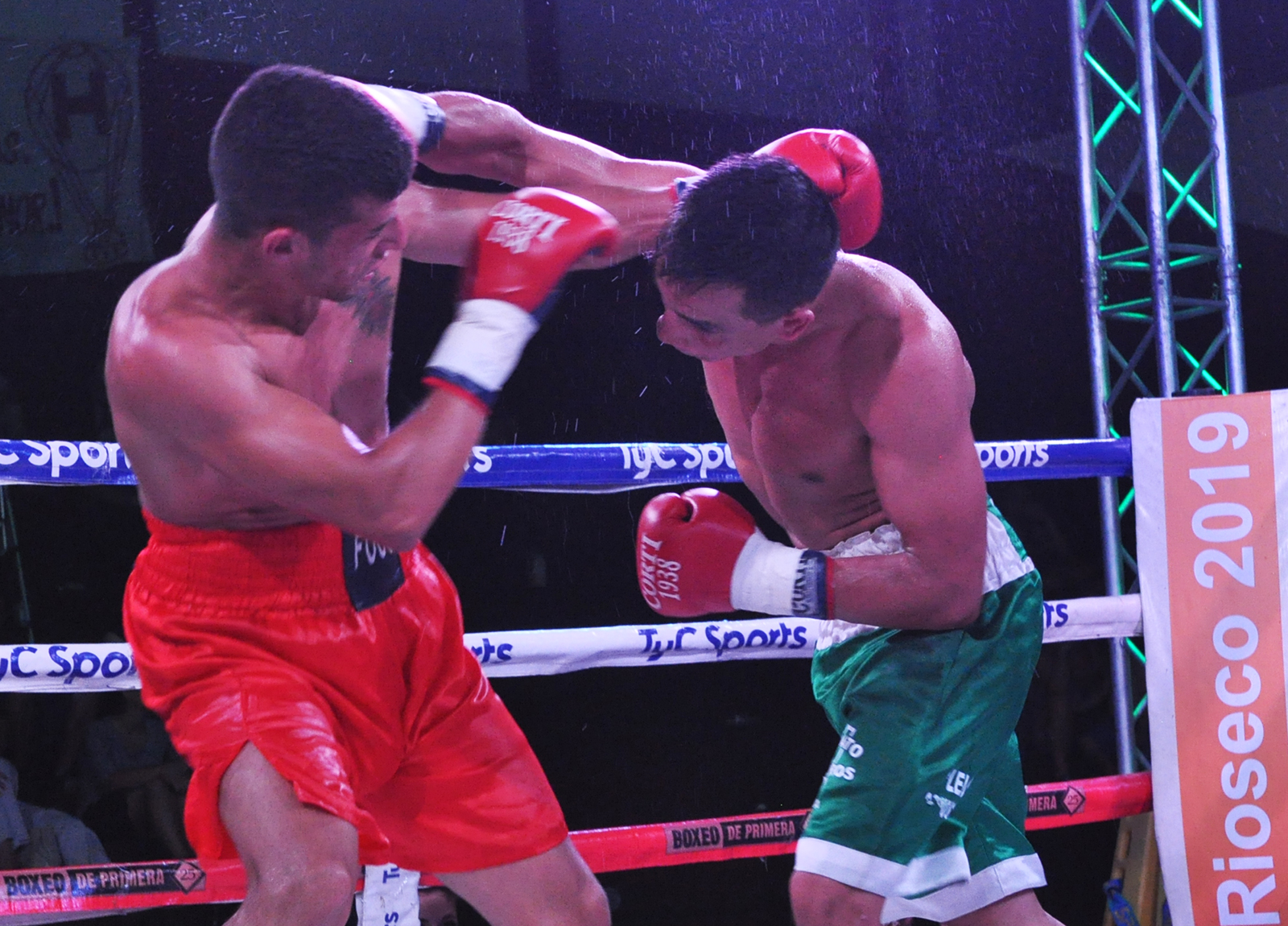 Former International champion Marcos "Pimienta" Ojeda pulverized Ezequiel Salyal Lozano, by a vicious knock out in the third round, and conquered the World Boxing Organization (WBO) Latino super featherweight title, at the main event of an exciting boxing night last Friday night at Club Atlético Huracán, in Buenos Aires, Argentina, promoted by Argentina Boxing Promotions, of Mario Margossian.
In an action packed fight, Ojeda, from Uriburu, La Pampa, former World Boxing Council (WBC) International champion and #32 WBC, and #3 of the Argentinean super featherweight ranking, took two rounds to study Sayal Lozano, from 25 de Mayo, Buenos Aires, before finishing him in the third. After dominating the first two chapters, in the third the 27 year old prospect stepped on the accelerator. Dominating the distance, he took him to the ropes where he connected a left cross to the cheek followed by a strong right hook to the stomach, making his opponent stumble. Without letting him breath, "Pimienta" stroke him down with a resounding left cross to the temple sending Sayal Lozano to the canvas, showing no response, and where he heard the ten count of the referee Antonio Zaragoza.
With this result, Ojeda, who weighed 58,900 kg., who had previously defeated Sebastián Aguirre, Leonardo Fernández, Daniel Brizuela and Horacio Cabral, among others, and lost a controversial decision against Evgeny Chuprakov in Rusia, moves on to 16 victories (11 KOs), 4 losses and 1 draw. Sayal Lozano, 58,900 kg., remains in 18 victories (9 KOs), 2 defeats and 1 draw.
In an interesting co main event, unbeaten junior welterweight star, Nicolás "El Elegante" Andino (63,500 kg. and 8-0, 1 KO), from Villa Caraza, Buenos Aires, dominated Jonathan "El Forastero" Arena (62,650 kg. and 8-5-1, 3 KOs), form San Rafael, Mendoza, by a six round wide unanimous decision. The scorecard were: Edgardo Codutti 60-54, Néstor Savino 60-54, and Hugo Vainesman 60-54.
In an explosive junior welterweight fight, Elías Paredes (61,900 kg. and 4-1, 2 KOs), from Remedios de Escalada, Buenos Aires, destroyed Daniel González (62,500 kg. and 1-4-1), form Garín, Buenos Aires, by a strong technical knock out in the third round, after sending him down in the third round.
In other results, in bantamwieght division, former Argentinean national team, Florencia "La Cordo" Juárez (52,250 kg. and 2-0), from Córdoba, defeated Antonella "La Mosca" Molina (53,100 kg. and 0-3), from Concordia, Entre Ríos, by a four round wide unanimous decision. The scorecard were: Mirta Jara 40-36, Edgardo Codutti 40-36, and Hugo Vainesman 40-36.
Finally, in cruiserweight division, Federico "Pumba" Grandone (90 kg. and 2-0, 1 KO), from Buenos Aires, crushed Martín "La Máquina" Ottaviano (89,300 kg. and 0-2), from Balcarce, Buenos Aires, by a harsh technical knock out in the first round.