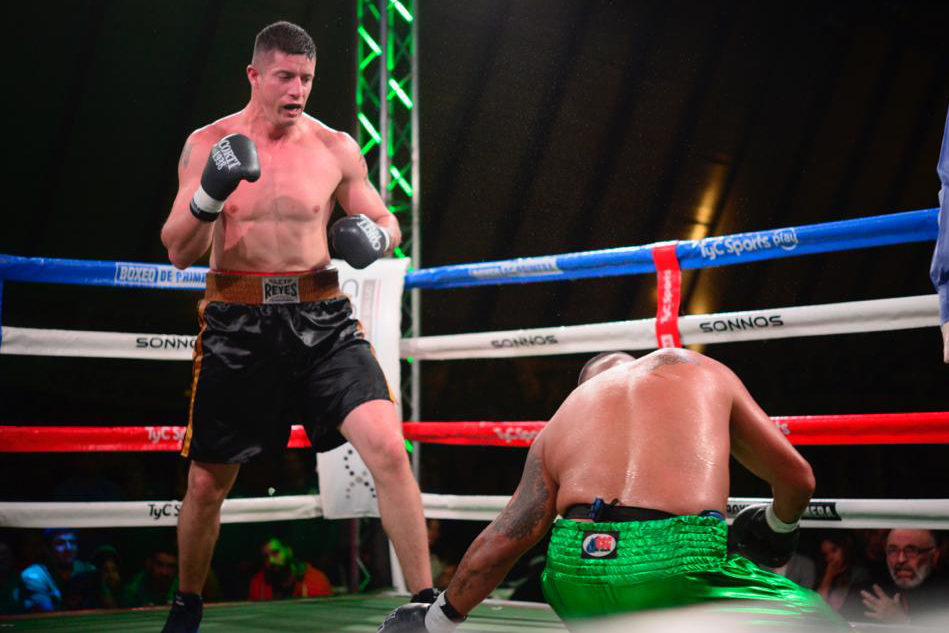 South American cruiserweight champion, Darío Balmaceda, destroyed Argentinean cruiserweight champion, Pablo "Pokemón" Farías, by a vicious knock out in the sixth round, and unified the titles, at the main event of an exciting boxing night last Saturday night at the Centro Recreativo Pasteleros, in Luis Guillón, Buenos Aires, Argentina, promoted by Argentina Boxing Promotions, of Mario Margossian.
In the fifth duel between each other, that had Farías with three victories and one loss, Balmaceda, from Córdoba, #2 of the Argentinean cruiserweight ranking, who was defending for the first time his regional crown, made perfect use of his bigger size, hight, condition and power of his punches, to put down Farías, former World Boxing Council (WBC) Latino, World Boxing Organization (WBO) Latino and International Boxing Federation (IBF) Latino supper middleweight champion, as well as WBO Latino cruiserweight monarch, who was also putting in the line for the first time his national belt, but was unable to do anything. With an evident physical, boxing and strength difference, the 34 year old Balmaceda, widely won every single round before punishing Farías in the sixth with a combination of left and right uppercuts and crosses to his jaw and temple, with which he sent "Pokemón" dramatically to the canvas, with no kind of response, making the referee Rodolfo Stella reach the ten count.
With this result, Balmaceda, who weighed 89,700 kg., defended for the first time the South American title he conquered last October 5th, knowing out Mariano Gudiño in the fifth chapter, and added the Argentinean belt, to move on to 19 victories (13 KOs), 17 losses and 2 draws. Farías, 89,850 kg., lost the crown he obtained last May 25th against José Ulrich by a split decision, and was comming from another loss against Marcos Aumada in the fifth chapter, and remains in 30 victories (17 KOs) and 5 defeats.
In the co main event, multiple Latino champion Gonzalo "Patón" Basile (104,250 kg. and 74-12-0-1 sd, 34 KOs) stopped Bolivian Julio "Cachi" Cuellar Cabrera (123,950 kg. and 13-7, 12 KOs), by a strong technical knock out in the third round, and conquered the vacant South American heavyweight title, in a rematch bout after Basile also knock him out in one round on December 14th, 2017.
After a better start by Cuellar Cabrera, slowly Basile, former WBO, IBF and WBC Latino heavyweight champion and #1 of the Argentinean heavyweight ranking, found his distance. Reaching the better angles, "Patón" stepped on the accelerator in the third round and combined his left jabs with his right crosses the Bolivian temple, making him go down. Due to the lack of reaction, referee Hernán Guajardo stopped the count.
In other results, in cruiserweight division, prospect Nicolás "Pupi" Argañaraz (89,850 kg. and 8-1, 2 KOs), from González Catán, Buenos Aires, dominated Gustavo "El Volcán" Schmitt (89,500 kg. and 4-8), from Florencio Varela, Buenos Aires, by a six round wide unanimous decision. The scorecard were: Edgardo Codutti 59-55, Carlos Azzinnaro 59-56, and Ramón Cerdán 58-56.
Finally, in junior middleweight division, Emmanuel "Vampiro" Schramm (69,250 kg. and 1-0, 1 KO), from Morón, Buenos Aires, took out Damián "Rayo" Ponce (68,200 kg. and 0-3), from Gregorio de Laferrere, Buenos Aires,  by a strong knock out in the fourth round, afther sending him down once in the second chapter, generating a standing count in the fourth, and putting him down again, making referee Carlos Gómez reach the ten count.