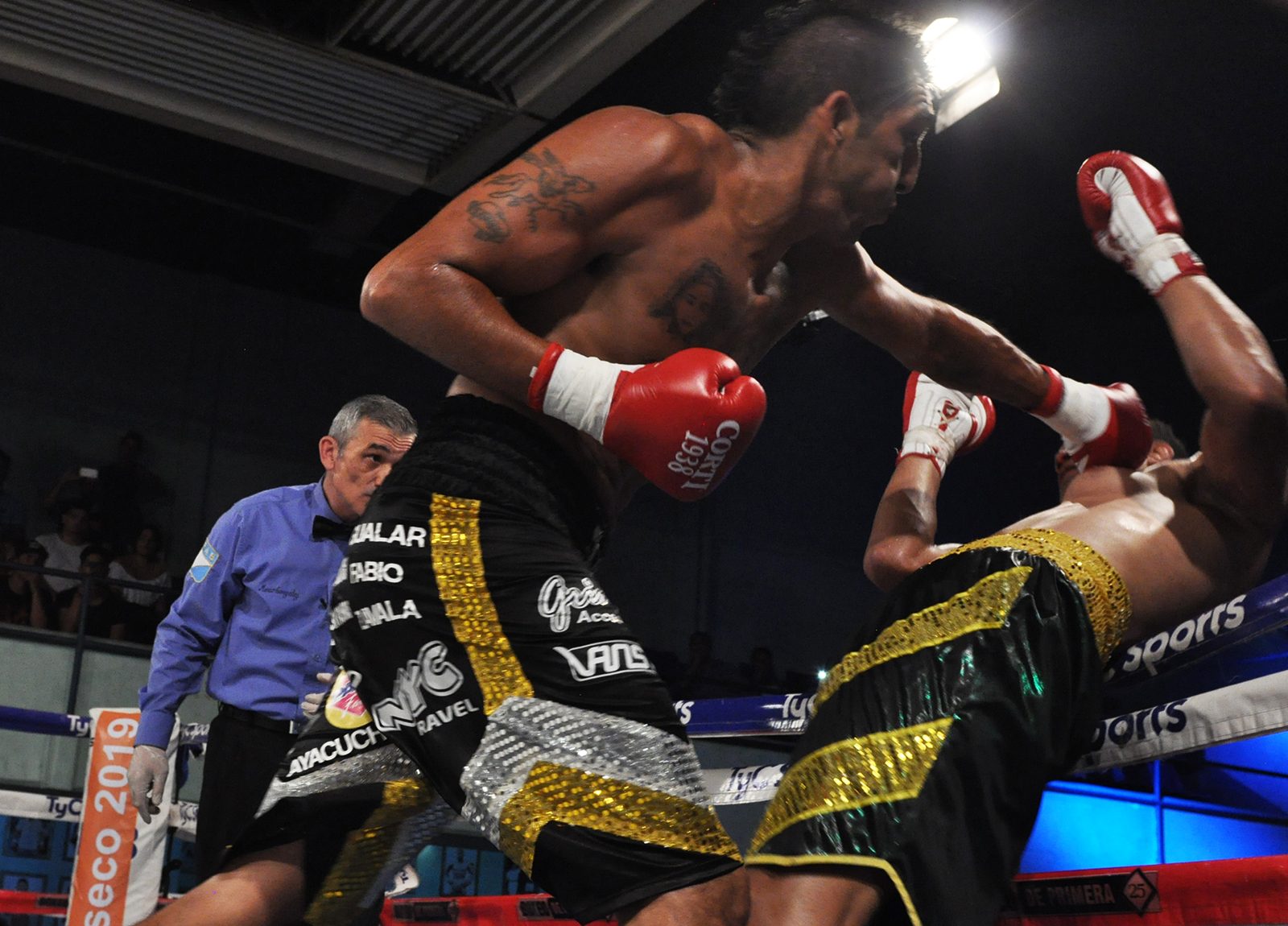 World Boxing Council (WBC) Latino cruiserweight title, heavy puncher Marcos "El Flaco" Aumada, destroyed Brazilian Carlos "Falcao" Nascimento, by a strong technical knock out in the fourth round, and defended for the second time his title, at the main event of an exciting boxing night last Saturday night at the Argentinean Boxing Federation (FAB) stadium, in Buenos Aires, Argentina, promoted by Argentina Boxing Promotions, of Mario Margossian.
In an explosive fight, Aumada, from San Luis, #35 WBC and #1 of the Argentinean cruiserweight ranking, tormented from the first bell Nascimento, from Bahía, who was unable to do anything and ended suffering his power. In the first round, Aumada sent the Brazilian down with a precise left uppercut to his chin. Without letting him breath, the 32 year old champion dominated the second and third chapters making good use of his long and strong blows to the head and body. And in the fourth, "El Flaco" discharged his continious right and left crosses, uppercts and hooks as much as he wanted to the head of a challenger who even bounced on the ropes, visibly finished, showing no kind of response, and making the referee Mario González stop the fight.
With this result, Aumada, who weighed 89,750 kg., defender for the second time the title he conquered on August 31st knocking out Pablo Farías in the fifth round, and defended over Nahuel Martínez in the first round, and moves on to 21 victories (16 KOs) and 6 losses. Nascimento, 90,400 kg., remains in 16 victories (12 KOs) and 7 defeats.
In the co main event, South American bantamweight champion, Pablo "Pablito" Gómez (53,250 kg. and 11-9-2, 1 KO), from Los Polvorines, Buenos Aires, dominated Miguel "El Topo" Salazar (52,400 kg. and 7-6-2, 2 KOs), from Salta, by a wide six round unanimous decision. The scorecard were: Javier Geido 60-54½, Luis Doffi 59½-55, and Carlos Azzinnaro 60-54.
In other results, in junior middleweight division, rising prospect Lucas "El Tornado" Bastida (69,250 kg. and 8-1, 4 KOs), from Mar del Plata, Buenos Aires, easily defeated Bolivian champion Arsovi "El Indio" Zapata Vázquez (69,150 kg. and 8-12-2, 2 KOs), by a wide six round unanimous decision, and after the referee Carlos Gómez deducted one point to the Bolivian in the third round for a rabbit punch. The scorecard were: Luis Doffi 60-53, Carlos Azzinnaro 60-53, and Javier Geido 60-53½.
Finally, in lightweight division, Nicolás "El Guapo" Herrera (59,950 kg. and 4-0-1, 1 KO) from Buenos Aires, beat Damián "Metralleta" Alfonso (59,650 kg. y 2-2-1), from Avellaneda, Buenos Aires, by a four round majority decision, and after the referee Rubén Figueroa made a standing count in the last chapter to the loser. The scorecard were: Javier Geido 38½-38½, Carlos Azzinnaro 38½-37½, and Luis Doffi 39½-37½.